On Monday, the U.S. Department of Agriculture's Economic Research Service (ERS) published an overview of the Conservation Title of the 2018 Farm Bill.  Today's update looks at a couple key points from the ERS summary.
After highlighting several changes to specific programs in the Conservation Title, ERS turned to a broader focus on the economic implications of the new provisions.
The ERS update explained that, "For FY2019-FY2023, the CBO [Congressional Budget Office] projects mandatory spending on farm bill conservation programs that is slightly higher than projected baseline spending (spending under an extension of 2014 Farm Act programs, without modification, through 2023). For the five largest conservation programs (and predecessors), inflation-adjusted spending increased under both the 2002 and 2008 Farm Acts (2002-2013, see chart below), but was lower under the 2014 Farm Act (2014-2018). CBO projections suggest that the 2018 Act could provide slightly higher funding, on average, than under the 2014 Act. Although program funding is mandatory (does not require appropriation), spending in future years is subject to congressional review and, under past farm acts, has sometimes been reduced from specified levels."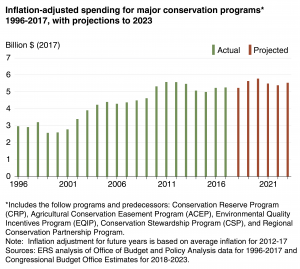 "Agriculture Improvement Act of 2018: Highlights and Implications. Conservation: Title II." USDA's Economic Research Service (https://goo.gl/hNh4Rx, February 11, 2019).
In addition, ERS stated that, "While overall conservation funding is roughly equal to baseline levels for FY2019-FY2023, the 2018 Act shifts funding among programs. The acreage enrollment cap in the Conservation Stewardship Program (CSP) is replaced with a funding cap that implies lower spending in the future. Contracts signed under the acreage-limited CSP will continue; contracts that expire before December 31, 2019 can be renewed. Going forward, the 2018 Act sets spending limits of $700 million for FY2019, increasing to $1 billion by FY2023. CSP funding was $1.32 billion in FY2018 (estimated) and was projected to be roughly $1.75 billion per year, on average, for FY2019-FY2023 according to the CBO.
Over the next several years, as spending for existing CSP contracts ramps down and spending on new contracts ramps up, CSP spending will eventually reach an overall lower level of spending commensurate with new limits.
"In contrast, the Environmental Quality Incentives Program (EQIP) funding is increased from $1.75 billion in FY2019 to $2.025 billion in FY2023, compared to an averagebaseline of $1.75 billion over FY2019-FY2023. Funding is also increased for the Agricultural Conservation Easements Program (from $250 million to $450 million annually) and the Regional Conservation Partnership Program ($100 million to $300 million annually). Conservation Reserve Program (CRP) funding is projected to decline (a total of -$189 million) over FY2019-FY2023."
Monday's update also pointed out that,
Changes in major conservation program funding under the 2018 Act will effectively halt the shift toward increasing the share of conservation funding for working land programs that began with the 2002 Act and continued under the 2008 and 2014 Acts.
"While funding has shifted toward working land programs in every farm bill since 2002, the size of the shift has declined in each subsequent farm act. Under the 2014Act, working land program funding accounted for a majority (53 percent) of major conservation program funding for the first time. Under the 2018 Act, spending for working land programs will again account for about 53 percent of the five largest programs. (Working land programs are defined here to include EQIP and CSP. Other programs can also support working lands.  Agricultural Conservation Easement Program (ACEP) can help preserve working agricultural land that would otherwise be developed. Some CRP continuous signup practices (e.g., filter strips) may also complement crop production. Regional Conservation Partnership Program (RCPP) can fund a wide range of practices.)"
"Agriculture Improvement Act of 2018: Highlights and Implications. Conservation: Title II." USDA's Economic Research Service (https://goo.gl/hNh4Rx, February 11, 2019).
ERS also explained that, "While the overall acreage cap for the Conservation Reserve Program is increased from 24 million to 27 million acres under the 2018 Act, other changes could limit the size of annual rental payments and may reduce enrollment incentives. Annual rental rates could be affected by two provisions. The first affects the determination of county average soil rental rates (SRRs). County-average SRRs, which were equal to the county-average rental rate for non-irrigated cropland under previous farm acts, would be set 15 percent below county-average rates for general signup and 10 percent below county-average rental rates for continuous signup. Because county-average SRRs underlie CRP limits on annual rental payments, these provisions could result in rental payments as much as 15 percent lower for general signup and 10 percent lower for continuous signup. Actual limits established for CRP implementation can also include adjustments to the county-average SRR, including adjustments (up or down) for field-specific soil quality. The second new CRP provision applies only to land that has already been in CRP. For these lands, an overall countywide ceiling on annual rental rates would also apply. Annual rental rates could not exceed 85 percent of the county average rental rate (not the county-average SRR) for general signup and 90 percent for continuous signup."
Source: Keith Good, Farm Policy News
Social isolation and loneliness are increasingly being recognized as urgent public health threats, with risks to health and mortality as serious as those from obesity or smoking. Some researchers have cautioned that rural residents could be at greater risk for isolation due to the increased distances they must travel to visit their friends and family.
A new University of Minnesota School of Public Health study looked at objective and subjective measures of isolation and loneliness among rural and urban older adults and found that, overall, people in rural areas actually reported less social isolation and more social relationships than urban residents.
The study, led by Assistant Professor Carrie Henning-Smith and co-authored by Associate Professor Katy Kozhimannil and Professor Ira Moscovice, was recently published in The Journal of Rural Health.
Henning-Smith discovered the differences in social isolation among rural and urban residents by reviewing data from the National Social Life, Health, and Aging Project, a survey of 2,439 older adults (age 65 and older) and their spouses or partners. She compared county-level survey data from people living in large cities (metropolitan), small towns (micropolitan), and very rural areas (noncore).
Among those groups of residents, Henning-Smith examined:
their reported levels of social support (whether a respondent said they can open up to or rely on family or friends);
their number of social relationships (close family and friends, children and grandchildren, marital status);
their measured level of loneliness using the three-item UCLA Loneliness Scale, including how often they felt left out, lacked companionship, and felt isolated.
Analysis of the data showed that:
rural noncore residents had more living children and grandchildren and were more likely to say they could rely on friends compared to metropolitan residents;
rural micropolitan residents were more likely than metropolitan residents to say that they could rely on family;
both rural noncore and micropolitan residents were more likely than metropolitan residents to report that they have more than 20 friends;
despite having more social relationships, rural noncore residents were also significantly more likely than metropolitan residents to say that they feel left out (one important measure of loneliness) often or some of the time;
more than 25 percent of micropolitan and approximately 20 percent of metropolitan and noncore residents reported socializing with others less than once a month;
having more education was associated with more loneliness for metropolitan but not micropolitan or noncore residents;
being non-Hispanic Black was associated with significantly higher loneliness scores for noncore, but not metropolitan or micropolitan residents;
noncore Black residents were four times more likely to be lonely than noncore White residents.
"This study found significant variation by rurality in various measures of social isolation and loneliness," said Henning-Smith. "It also found variation within types of geography in risks for loneliness. For instance, rural noncore Black residents were more likely to be lonely than noncore White residents. Further, the finding that rural residents have more social relationships, but are still more likely to report feeling left out shows that social isolation needs to be examined across a range of subjective and objective traits and experiences. No one measure can capture the full extent of social participation or isolation."
Henning-Smith also said there is a critical need for more information on the prevalence and risk factors for being isolated and lonely by geography in order to design targeted, effective interventions, such as community programming, social support groups or volunteer opportunities.
"This study finds that while, on average, rural residents report more social relationships, some rural residents are still at a much higher risk of being lonely. Those disparities should be addressed by policy and public health interventions," said Henning-Smith. "Further, more relationships alone is not enough to protect rural residents from feeling lonely; more should be done to facilitate meaningful social connections."
Henning-Smith is the deputy director of the School of Public Health's Rural Health Research Center and is the lead author on two "policy briefs" providing more information on the topic of rural social isolation (1, 2).
This study was funded by a grant from The Federal Office of Rural Health Policy.
Source: University of Minnesota
January 31, 2019
Earlier this week, the U.S. Department of Agriculture's Economic Research Service (ERS) published a report that looked at trends in the development of drought-tolerant corn in the United States.  Today's update looks at some key points from the ERS report.
On Monday, ERS Economists Jonathan McFadden, David Smith, Seth Wechsler, and Steven Wallander published a report titled, "Development, Adoption, and Management of Drought-Tolerant Corn in the United States," which stated that, "Droughts have been among the most significant causes of crop yield reductions and losses for centuries. Although Federal disaster program and crop insurance payments tend to be higher during droughts, they typically do not fully compensate farmers for drought-related losses."
The report explained that, "Drought tolerance in corn is a characteristic that has been the subject of research for decades, but has only recently been commercialized. Drought-tolerant (DT) corn produced using conventional breeding methods was commercially introduced in 2011. Hybrids genetically engineered (GE) for drought tolerance were introduced in 2012, but were not broadly available until 2013. GE drought tolerance protects corn plants from drought somewhat differently than conventionally bred drought tolerance and generally took more time to commercialize, both of which can influence the timing of adoption. However, the vast majority of DT corn planted in 2016 had one or more GE traits (e.g., herbicide tolerance and/or insect resistance)."
The ERS authors pointed out that,
Over one-fifth of U S corn acreage was planted with DT corn in 2016.  DT corn accounted for only 2 percent of U.S. planted corn acreage in 2012. By 2016, this share had grown to 22 percent. The pace of adoption is similar to the adoption of herbicide-tolerant corn in the early 2000.
McFadden, Jonathan, David Smith, Seth Wechsler, and Steven Wallander.  Development, Adoption, and Management of Drought-Tolerant Corn in the United States, EIB-204, U.S. Department of Agriculture, Economic Research Service, January 2019.
More narrowly, the report pointed out that, "At least 80 percent of DT corn acres were planted in 2016 with seed conventionally bred for drought tolerance.  Just under 20 percent of DT corn acres were planted with seed genetically engineered for drought tolerance in 2016. At the national level, 3 percent of all U.S. corn acres in 2016 were planted with seed that had been genetically engineered for drought tolerance."
With respect to the geography of DT corn adoption, Monday's report stated that, "In 2016, drought-tolerant (DT) corn was grown in 18 States where at least 1 million acres of corn were planted. However, adoption rates were highest in areas where DT corn was developed and initially marketed. Over 4 million acres of DT corn—or 42 percent of State corn acreage—were planted in Nebraska, a semi-arid western Corn Belt State. Approximately 2 million acres of DT corn (39 percent of State corn acreage) were cultivated in Kansas, a State with a relatively similar climate. Corn Belt States with relatively wetter climates—Iowa, Illinois, and Indiana—had 1.1 to 2.2 million DT corn acres each, though these acreages represent smaller shares of each State's total, roughly 16 to 21 percent."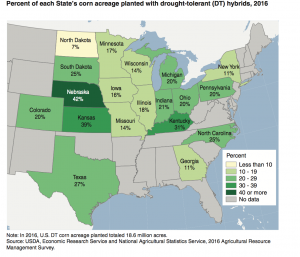 McFadden, Jonathan, David Smith, Seth Wechsler, and Steven Wallander. Development, Adoption, and Management of Drought-Tolerant Corn in the United States, EIB-204, U.S. Department of Agriculture, Economic Research Service, January 2019.
McFadden, Smith, Wechsler and Wallander also indicated that, "Between 2011 and 2015, the most damaging droughts experienced during the corn-growing season in each county of our 19-State survey area tended to be classified as severe, extreme, or exceptional. The most severe drought for many counties during this period occurred in2012 and was particularly serious in Colorado, western Texas and Kansas, southern Missouri and Illinois, western Kentucky, and certain areas of Indiana and Georgia."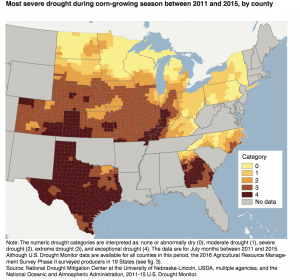 McFadden, Jonathan, David Smith, Seth Wechsler, and Steven Wallander. Development, Adoption, and Management of Drought-Tolerant Corn in the United States, EIB-204, U.S. Department of Agriculture, Economic Research Service, January 2019.
Following this point, the ERS report noted that, "Regional differences in drought severity and recentness of exposure significantly influence adoption of DT corn.
Only 14 percent of fields located in areas that did not experience a July drought (i.e., none or abnormally dry classifications) from 2011 to 2015 were planted with DT corn in 2016. By contrast, 30 percent of corn fields located in areas where the most severe July drought was 'exceptional' (i.e., D4 classification) at some point between 2011 and 2015 were planted with DT hybrids in 2016.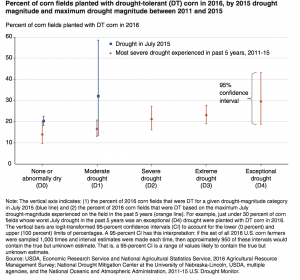 McFadden, Jonathan, David Smith, Seth Wechsler, and Steven Wallander. Development, Adoption, and Management of Drought-Tolerant Corn in the United States, EIB-204, U.S. Department of Agriculture, Economic Research Service, January 2019.
After discussing a variety of other variables in more depth, the ERS report concluded by stating that, "By 2016, approximately 22 percent of national corn acreage consisted of drought-tolerant (DT) corn hybrids. Diffusion of this new technology has been partially driven by farmers' experiences with drought: adoption is highest in semi-arid regions of the western Corn Belt where these seeds were partly developed and where companies' marketing efforts were initially concentrated. The expected benefit from DT corn adoption is likely to be higher in dry or drought-prone corn-producing regions than in regions with ample rainfall."
The authors added: "The decision to plant DT corn can be likened to farmers' decisions to purchase insurance. Under mild-to-moderate drought conditions, planting DT corn can 'pay out' in the form of reductions in drought-induced yield losses. Farmers who adopt DT corn value the expected avoidance of such yield losses at least as much as the premiums they are willing to pay for the DT technology.
However, DT seeds provide incomplete protection from drought, and substantial losses could result under severe conditions. Under extreme or exceptional drought, there could be little expected benefit to adoption since both DT and non-DT corn are likely to suffer crop failure.
"Yet, there remain conditions under which DT corn may be an effective risk-management tool.
"Broad policy implications stem from these potential improvements in risk management. Under mild-to-moderate drought conditions, the decision to plant a DT corn hybrid could determine whether a farmer suffers losses that warrant filing a Federal crop insurance claim. Continued diffusion of DT corn and further development of drought tolerance in other field crops could result in cost savings to farmers, private insurers, and the Federal Government through reduced indemnity payments. Similar reductions in drought-related natural disaster payments could also occur under increasing adoption and technological improvements."
Source: Keith Good, Farm Policy News
March corn futures prices maintain a range between $3.70 and $3.85 since the onset of the government shutdown.  The range-bound nature of corn prices continues despite projections of lower ending stocks.  While soybean prices respond to rumors of a trade deal, the implications for corn prices may be just as strong this marketing year.
A resolution of the trade dispute with China holds the promise of increased commodity prices and improvement of economic growth issues facing the world in 2019.  Each of these outcomes benefits corn prices.  In particular, China levies a one percent tariff on corn imports on up to five million metric tons (197 million bushels) at which point the tariff increases to 65 percent on additional imports.  Due to the current trade impasse, tariffs on U.S. corn imports to China sit 25 percent higher, at 26 percent and 90 percent respectively.  Recent reports out of China indicate the massive stocks built up under the price support program in place from 2007-2016 are approaching what the government considers a normal level.  It is difficult to estimate corn stocks in China due to a lack of data availability.  Chinese government officials indicated last week that they would sell off the remains of their old supplies in 2019.  USDA projections for Chinese ending stocks comprise 67 percent of the current world ending stocks with no prospects of exporting corn and the development of a production deficit.
China currently faces a 26.5 MMT (1.04 billion bushels) production deficit under normal growing conditions in the forthcoming year.  Since U.S. corn prices for export sit at the lowest level in the world, removal of the 25 percent tariff on U.S. corn imports infers an uptick in exports to China.  It seems plausible that 2 to 5 MMT (78.8 to 197 million bushels) of U.S. exports is feasible under the current tariff rate quota faced by the rest of the world.  If China increased the baseline quantity of the tariff rate quota to help meet the production shortfall, corn exports could grow.  The USDA forecast for corn exports this marketing year sits at 2.45 billion bushels.  It seems unlikely that the current forecast includes exports to China given the lack of trade in recent years.
World supplies appear set to grow tighter this year.  South Africa, usually an exporter, appears set to be an importer in 2019 on a significant crop shortfall associated with drought.  The contraction may be severe with local agencies indicating up to a 19 percent loss of corn area planted.  At 4.89 million acres, South African acreage forecasts sit on par with the drought year of 2015-16.  CONAB, the Brazilian agricultural statistics agency, projected corn production at 3.59 billion bushels for 2018-19 in the January report.  USDA's current projection sits at 3.72 billion bushels.  The prospects of USDA lowering production of Brazilian corn seems feasible.  Projections indicate the second crop accounts for almost 70 percent of Brazilian corn production this year.  The recent dryness in many regions of Brazil spurred soybean harvest and led to early corn planting.  A continuation of recent weather patterns in Brazil may be a harbinger of things to come.  The forecast for Argentine production sits at 1.67 billion bushels and may stay at that level for the near future.  On top of these world production issues, an expectation of lower corn production for the 2018 U.S. crop leaves world supplies heading lower as we move into 2019.
While corn supplies continue to deteriorate around the world, U.S. exports maintain strength this marketing year.  Export inspections place corn exports at 810.09 million bushels through January 17.  The current export level sits near 864 million bushels when accounting for differences between Census data provided through October and weekly export inspections.  Corn exports need to average approximately 49 million bushels per week to hit the USDA forecast.  Through January 17, corn export inspections averaged slightly above 40 million bushels per week thus far this marketing year.  While below the pace to attain the current USDA forecast, export inspections sit 61 percent above last year over the same period.  U.S. corn continues to be the cheapest at export terminals in the world and looks to benefit from any trade deal.
A resolution of the trade dispute with China creates a bullish scenario for corn prices.  The present outlook projects tighter world corn supplies in 2019.   When considering world ending stocks without China's large position, USDA world ending stocks come in near 3.98 billion bushels, down 644 million bushels from last marketing year.  Calculations of world ending stocks by the USDA do not include lower production by major exporters that developed since December.  An entry by China into a tight world corn market under a new trade deal look supportive of corn prices.
Source: Todd Hubbs, Farmdocdaily
Hubbs, T. "Prospects for Corn Use from Ethanol Production." farmdoc daily (8):230, Department of Agricultural and Consumer Economics, University of Illinois at Urbana-Champaign, December 17, 2018.
The WASDE forecast of corn use for ethanol production decreased by 50 million bushels in the December report.  Ethanol use for corn slightly lags behind last marketing year's consumption level and requires a fundamental change to the current market dynamics to eclipse the projection.
The projection of corn used for ethanol production of 5.6 billion bushels indicates a slight change from the previous marketing year.  The continuation of negative cash margins for ethanol plants saw a weakening of the weekly production recently from previous year totals.  Over the last month, production averaged 1.05 million barrels a day, down from the 1.08 million barrels a day over the same period last year.  To exceed the current USDA projection, an expansion in gasoline consumption or a continuation of the growth in ethanol export levels witnessed during the 2017-18 marketing year is necessary.
The projection of U.S. retail gasoline price by the Energy Information Agency (EIA) appears set to average $2.73 per gallon in 2018, 12.8 % higher than the price experienced in 2017.  The December EIA Short-Term Energy Outlook projected a decrease in gasoline prices for 2019 to $2.50 per gallon.  The forecast for gasoline consumption stands at almost 143.64 billion gallons in 2019, up from the 142.72 billion gallons consumed in 2018.  EIA's forecast of ethanol production in 2019 is 1.04 million barrels per day.  If the EIA projection is correct, a production level of approximately 15.94 billion gallons is in store for 2019, slightly down from 2018 production levels.  The renewable fuels volume requirement is set at 19.92 billion gallons for 2019, up from the 19.29 billion gallons required in 2018.  The conventional ethanol requirement comes in at 15 billion gallons for 2019, equal to the statutory requirement level for both 2017 and 2018.  The uncertainty regarding small refinery exemptions and E-15 policy looks to continue, but the low price of ethanol indicates a continuation of the 10 percent blend rate in 2019.  Moderate growth in gasoline consumption next year places forecasts of ethanol use for blending purposes marginally higher than the last marketing year.
Ethanol exports witnessed record levels in the 2017-18 marketing year with exports totaling 1.63 billion gallons.  Approximately 28 percent of this total went to Brazil.  Canada imported over 20 percent and an expanding market in India imported another 10 percent.  The prospect of eclipsing last year's record export total requires continued Brazilian sourcing of U.S. ethanol and increased ethanol exports to other markets.  Ethanol export numbers are available from U.S. Census trade data for the marketing year through October.  U.S. exports of ethanol thus far sit near 265 million gallons, up 40 percent from the similar period in 2017.  Strong demand from Brazil, Canada, the EU, propelled the early strength this marketing year.  Expansion of ethanol imports by numerous smaller markets also led to the year over year growth through the first two months.  Exports to China provide a minimal contribution to total exports thus far this year, but warming trade relations create the possibility for increased ethanol exports moving forward.  In 2019, low ethanol prices and growing demand hold promise to at least meet or eclipse last year's total.
Thus far, grain crushing for fuel alcohol totals are available through October from the USDA Grain Crushing and Co-Products Production report this marketing year.  For the first two months, corn use for ethanol came in at 907.6 million bushels of corn, down 0.9 percent from 2017 crush numbers.  Using EIA weekly ethanol production data through the end of November, production levels place corn use for ethanol production in a range of 455 to 465 million bushels for the month if corn use maintains the pace attained during the first two months of the marketing year.  With a conservative estimate of corn crush in November, total corn consumption for ethanol production through the first quarter of the marketing year comes in slightly below last year's 1.39 billion bushels.
The USDA's reduction of corn use for ethanol by 50 million bushels in the December WASDE report reflects the pace of consumption thus far this marketing year.  Lower gasoline prices leading to higher domestic gasoline consumption may provide support for increased corn usage for ethanol production in 2019.  Additionally, the continued expansion of ethanol exports appears promising with the low ethanol prices currently in place.  Corn use from ethanol production 20 to 30 million bushels larger than current WASDE forecast levels is possible this marketing year.
Applying Manure in Unfavorable Conditions
10/25/2018
Frequent rainfall has delayed harvest across the state, leading to concerns about whether manure application will be completed. The projected favorable forecast the next nine days should provide an opportunity for manure application.
At this point, focus needs to shift from waiting for ideal manure application conditions, to making sure there is sufficient storage capacity to make it through the winter. However, as these weather conditions can increase nutrient transport and loss, it is important to make sure best manure application strategies are followed to minimize negative environmental impacts and ensure producers benefit from the manure's fertilizer value.
Increased soil moisture increases both the risk of runoff and manure movement to tile lines. Higher soil moistures lead to both slower infiltrations of applied manures and greater potential for leaching. Liquid manure applications will increase soil moisture further; for example, a manure application of 13,500 gallons per acre is equivalent to a half-inch rainstorm.
There are some things producers can do to minimize risk of nutrient loss.
Consider reducing manure application rates. This may mean supplementing fertilizers or providing a second manure application in the spring to meet nutrient application goals, but the soil has a better chance of holding all the nutrients applied.
Pick and choose your fields. All fields aren't created equal. Some have more slope, some are closer to streams and rivers, and some are naturally wetter and more poorly drained. Take advantage of knowing the farm and apply in the drier locations.
Follow the contour. Wetter soils mean the manure soaks in slower; the manure and those nutrients need to stay where they are put. Following the contour provides less opportunity for flow and decreases mini-micro topography that runoff from the field from rainfall events shortly after manure application.
Surface residue. Fields with more residue cover will tend to have less runoff and less erosion than fields where residue has been removed. Take advantage of this by putting manure where residue cover remains.
Increase setback distances from rivers, streams, lakes, and sinkholes.
Review your manure management plan. Identify fields that have a low phosphorus index and apply to those first. This normally means the field is at a lower risk of nutrient loss.
Watch the forecast. The highest risk time for nutrient transport is within the first 48-hours of manure application. Try to avoid applying if larger storms (greater than 0.5 inches) are forecast.
These practices don't eliminate risk of nutrient loss, but taking these actions can help keep the nutrients in the fields and out of Iowa's waters.
Finally, wet conditions always lead to concerns and questions about compaction. Check tire inflation pressures, only partially fill tanks, or consider drag line application to reduce compaction risk. Good manure storage management means making sure to have sufficient capacity to make it spring. Keep soil and weather conditions in mind, and focus on actions to protect Iowa's waters. Safe hauling.
Source: Daniel Andersen, Iowa State University
U.S. Agricultural Exports Set July Record as China Trade Row Persists
9/11/2018
A radio update from USDA on Thursday indicated that U.S. agriculture exports set a record in July. "It's the best July that the U.S. has seen as far as agricultural exports go, the value total," said Bryce Cooke, an economist with USDA's Economic Research Service. The total value of U.S. agricultural exports in July totaled just over $11 billion.
In the radio update, Gary Crawford pointed out that the USDA trade data showed U.S. agricultural exports at $122 billion for first ten months of the fiscal year (October – July), which is two percent ahead of last year.
Nonetheless, soybeans dropped eight percent in value terms, and the value of wheat exports was down by twenty percent. The value of corn exports increased by ten percent.
More narrowly with respect to soybean exports, additional USDA data from last week showed that the total volume of U.S. soybean exports to the world are down about four percent from the time period last year, but for for the month of July, the volume of total U.S. soybean exports were up about forty-eight percent from July of 2017.
The volume of U.S. soybean exports to China were down over fifty percent this July compared to last year, but exports to the EU, Mexico, Egypt, Taiwan and Vietnam increased.
Recall that late last month in its Outlook for U.S. Agricultural Trade, USDA explained that, "Agricultural exports to China are forecast down $7.0 billion from fiscal 2018 to $12.0 billion as soybean sales are expected to be sharply lower due to retaliatory tariffs, which also curb demand for other products."
Recent business news articles also provided additional perspective on U.S. soybean exports to China.
Reuters writers Hallie Gu and Dominique Patton reported last week that, "China will almost entirely replace its soybean imports from the United States with Brazilian beans and other origins in the upcoming season, but may run out of the oilseed in early 2019, said an executive with a top crusher on Tuesday.
"The forecast was one of the most bearish yet on the impact of the Sino-U.S. trade war for American farmers."
The article noted, "Imports from the United States will plunge further in the 2018/19 season starting this month to just 700,000 tonnes, said Guo Yanchao, deputy chairman of Jiusan Group.
"That compares with 27.85 million tonnes of U.S. soybeans imported in the prior year.
"Overall, China's imports of soybeans for the year will drop to 84.67 million tonnes, down 10.79 million tonnes from last year's purchases, Guo told an industry conference."
On Tuesday, Bloomberg News reported that, "JBA Holdings, a joint venture between companies including Heilongjiang Agriculture Co. and Joyvio Group, will invest $100 million over three years to build a soybean crusher and grain port in Russia amid a push by Chinese firms to diversify their sources of crop supplies."
And Reuters writers Hallie Gu and Josephine Mason reported Friday that, "China will start allowing soybean imports from Ethiopia, customs authorities said on Friday, as the world's top importer seeks to reduce its reliance on supplies of the oilseed from the United States amid a trade row with Washington."
With respect to U.S. beef and pork exports, USDA's Agricultural Marketing Service (AMS) pointed out in the September edition of The Economic Landscape that, "The [beef] export volume and value were both up 1 percent from June.
"Cumulative beef exports were higher in volume by 10 percent relative to 2017, and value was 20 percent higher."
"Japan, South Korea and Canada were our largest export markets in July."
The AMS report added, "Pork export volume was 8 percent below June while the value was down 9 percent."
"The largest overseas markets for U.S. pork were Japan, Mexico and Canada."
Additional analysis regarding USDA's Market Facilitation Program was included on the front page of Saturday's Des Moines Register.
Donnell Eller reported that, "Iowa farmers could get $550 million from the federal government to help offset damage from a summer of escalating tit-for-tat trade disputes.
"Iowa soybean farmers will receive an estimated $479 million, based on the state's projected harvest. Iowa pork producers would get between $60 million and $70 million.
"The money is part of a $12 billion emergency farm aid program President Donald Trump announced in July and is being provided through the Commodity Credit Corp., an agency formed in 1933 that has $30 billion in bonding authority to support farm prices and incomes."
The Register article added, "The money comes as Iowa and U.S. farmers face a cash-flow crisis, struggling with four years of falling income.
"'This is basically a very quick, cash-flow infusion,' said Iowa State economist Chad Hart, who calculated the amount of aid to Iowa producers with ISU economist Alejandro Plastina."
"On Friday, Trump threatened to impose another $267 billion in tariffs on Chinese goods, on top of the $200 million in new tariffs the president said probably will be implemented soon. If that happens, virtually everything coming from China would be subject to a U.S. tariff," the Register article said.
Source: University of Illinois
President Donald Trump is considering increasing the amount of ethanol in gasoline.
Sen. Chuck Grassley tweeted there is a potential of ethanol increasing from 10 percent (E10) to 15 percent (E15) blend of ethanol and 85 percent of gasoline year-round following a White House meeting May 8.
According to Mitch Miller, CEO of Carbon Green Bioenergy plant in Lake Odessa, the ethanol industry is pursuing a Reid vapor pressure waiver, a one-pound waiver, for E15 in the Clean Air Act (CAA) from the Environmental Protection Agency all year.
The Environmental Protection Agency bans E15 from June 1-Sept. 15 in certain regions of the country. Ethanol can be used in cars built after 2001 in unattainable regions or areas where the CAA monitors pollutants all year, Miller said, but in other areas, it is banned throughout the summer.
Miller said the reason it is prohibited is that the vapor pressure does not decrease. As a result, it does not meet the vaporized pressure requirement for the summer time. He said he believes the E15 one-pound waiver will not only help to meet the standard, but it is "cleaner fuel and a lower vapor pressure than the E10."
In addition to the quest to get a year-round E15 waiver, car manufacturers have changed the way they are building their cars to allow more ethanol to fuel cars, said Denny Heffron, owner of Heffron Farms in Belding.
"Now, plastics that are in cars will not be affected by ethanol (E15)," Heffron said. "Ethanol used to be hard on plastics, so old engines weren't able to run on ethanol because it deteriorated the plastic — the plastic gas lines, the plastic hoses — anything that was plastic, but now it changed."
That is music to the ears of farmers because with the increase of ethanol comes the increase of bushels of corn being sold to ethanol plants across the state. The increase in sales will generate more money for farmers, and it will minimize the surplus of corn growing in the state.
Heffron said the state had 2.5 billion bushels of corn carried over from last year.
"It will create a little bit of demand," Heffron said. "A little bit helps a lot. It will not hurt; it will help take care of some of the surpluses."
In addition to curving the surplus of corn, Jim Zook, executive director of the Michigan Corn Growers Association, said the increase in ethanol will reduce the U.S. dependency on foreign oil, improve the quality of the air that we breathe and recruit more farm workers.
Miller said at his ethanol plant, they grind 20 million bushels of corn all from Michigan farms per year.
"We buy corn from 650 family farms in Michigan," Miller said. "We produce 60 million gallons of ethanol per year and 1,040 tons of dry distillers grain."
One of the biggest misconceptions of corn being used to make ethanol is that once the corn is sent to an ethanol plant, there is no byproduct, Heffron said.
He said ethanol plants use the starch from the corn and then farmers use the byproduct, like the oils and protein, which is the dry distillers grain.
"The dry distillers grains goes back to farmers and is used as livestock feeds," Heffron said. "It is high in protein, it's high in energy, it is a wonderful feed. The chicken farmers that we sell to, they use it. The hogs guys we sell to, they use it. The dairy guys, they use it. The beef guys we sell to, they use it. So, that is one more product we are getting out of the corn."
Time to Start Scouting For Cutworms
5/4/2018
In previous years, cutworms have been found showing up in winter wheat fields in April or sometimes even earlier in March. This year has been much cooler than usual with most of the Midwest experiencing one of the coldest Aprils on record. Cold temperatures and late snows cause delays in insect activity, including that of cutworms. However, now that warmer temperatures are becoming more consistent, cutworms may start showing up again. There are two species that can pose a threat to winter wheat: army cutworm and pale western cutworm.
Army Cutworm
Overwintering army cutworm caterpillars emerge as temperatures warm up in the spring. They have a dark brown head and their body changes color with age. Initially, the caterpillars will be small (less than ½ inch) and have a light grayish brown body with few markings. As the caterpillars mature, they will turn a dull gray to brown color with some mottling. Eventually, they will grow up to about 2 inches in length and develop several pale stripes that run the length of their bodies.
Army cutworms are a nocturnal insect, only coming out of the ground to feed at night. For scouting, use a small shovel to dig into the top few inches of soil and count the number of caterpillars. The treatment threshold for army cutworms is about 2-4 caterpillars per square foot. An alternative scouting method is to base thresholds on cutworm feeding injury to plants. Army cutworm feeding is characterized by plants appearing cut or clipped near the soil surface. This clipping mostly happens on the tender blades of winter wheat, and rarely on the stem, crown, or meristematic tissues, which allows for regrowth to occur.
Pale Western Cutworm
Unlike army cutworms, pale western cutworms overwinter as eggs and begin feeding after they hatch in the spring. Pale western cutworms show up later than army cutworms, making them more of an occasional pest of winter wheat. The caterpillars have light gray to greenish white colored bodies with heads ranging from light to dark brown. They also have characteristic dark spots on each body segment and two distinct vertical lines on the head. Pale western cutworms can grow up to 1 ¼ inches in length.
Pale western cutworms feed near the soil surface causing "clipping" injury. They also feed through the stems, resulting in plant mortality. To scout for the caterpillars, dig into the top few inches of soil and count how many are in a square foot within a row. The threshold for pale western cutworms is 1-2 caterpillars per square foot. As with army cutworms, you may also scout by looking for the presence of clipped plants within the field.
Management
For insecticides currently labeled for managing army cutworm and pale western cutworm, please refer to the current version of the South Dakota Pest Management Guide: Wheat.
Source: Patrick Wagner, iGrow
Too Early to Worry About Corn Acreage?
4/18/2018
Recent unseasonably cold and wet weather over much of the Corn Belt precipitates speculation into the prospect of reduced corn acreage this year. With March prospective plantings at 88 million acres, a reduction in corn acreage under the recent strong demand levels for corn creates a supportive scenario for corn prices moving forward.
University of Illinois agricultural economist Todd Hubbs explains that despite larger-than-expected March 1 corn stocks, the strong demand for corn exports and ethanol production continues to provide backing to corn prices as farmers move into the planting season. The December 2018 corn futures price contract increased sharply following the release of the Prospective Plantings report and settled into a marketing-year high until the recent uptick of volatility associated with trade issues.
New crop futures moved lower over the past week despite the start to planting season in the Corn Belt showing potential for significant delays.
"April is shaping up to be one of the coldest in the last 120 years in the Corn Belt and northern Plains," Hubbs says. "Through April 7, over 75 percent of the prospective-planted corn acres contains soil too cold and wet to start planting — the prospect of planting delays raises questions about the likely magnitude of final corn acreage and the possible impact on yields."
Some indication of the potential acreage impact of continued delays in planting is revealed by the acreage response in years of late planting. According to Hubbs, no set definition of late planting exists for corn, but the previous analysis used here defined late planting occurring after May 20 for a majority of corn production areas. Additionally, a threshold of greater than 20 percent of the crop is assumed for a large amount of late planting.
Using these definitions and weekly planting progress reports, a calculation of the percentage of the crop planted late each year is possible. Since 1997, there have been seven years when the USDA's weekly Crop Progress report indicated that 20 percent or more of the corn crop was planted after May 20. The final USDA estimate of planted acreage was less than March intentions reported during six of those years. Late planting ranged from 20 to 29 percent in those years and acreage came in lower than intentions by an average of 643,000 acres, ranging from 32,000 (2008) to 1,917,000 (2013) acres.
The only exception occurred during 2009 when 29 percent of the crop was planted late; final acreage exceeded intentions by 1.396 million acres. During those same years, the acreage response shown in the June acreage report presented a different picture. June intentions acreage came in higher than March intentions by an average of 218,000 acres, ranging from -200,000 (2002) to 2,049,000 (2009) acres. June intentions came in on average 831,000 acres larger than final acreage in late planting years.
Research related to late planting and corn yield potential indicates a yield loss associated with late planting, particularly when planting dates get pushed past the third week of May.
"In the seven years since 1997 with the largest percentage of the crop planted late, the U.S. average yield was below trend in two years," Hubbs explains. "Corn yield came in near trend in three years and above trend in two years over the period."
Considerable variation in national corn yield relative to trend is present despite the amount of the crop planted at a later date. Substantial yield adjustments hinge on the weather during the growing season rather than planting date. Hubbs explains that if a large portion of corn planting gets pushed back into late May, the potential for decreased yield comes into play.
"The previous two decades of corn acreage adjustments show the potential for declines from March planting intentions associated with late planting," Hubbs adds. "Acreage adjustments varied widely during the period, and no definitive result is predictable at the national aggregate level."
For this year, concerns around corn planting delays focus on the Northern Plains and upper Midwest where continued snow accumulation and cold soil temperatures suggest a potential for persistent delays. These areas possess a smaller planting window for prime corn yields. A shift away from corn acreage in those areas is feasible as acreage is moved into different crops or goes unplanted.
Hubbs adds that the impact on spring wheat and soybean acreage may be even more pronounced in many areas of the Corn Belt if planting is significantly delayed. Overall, less corn acreage than reported in March seems likely if planting delays continue.
The potential size of the 2018 U.S. corn crop is uncertain at this early stage of the planting season. A continuation of cold and wet weather over large portions of the Corn Belt could lead to losses in corn acreage.
"It is too early to write off corn acreage at this point since time remains to plant the crop, but continued delays narrow the window for planting without the prospect of yield losses," Hubbs says. "The next three weeks of planting progress reports should bring the potential for corn acreage adjustments into stronger focus and expectations about corn acreage will gain a more accurate assessment in the USDA's June 29 Acreage report."
Discussion and graphs associated with this article are available here: https://youtu.be/xsfA1GmAqyk.
Source: University of Illinois
Corn Hybrids With High Yields Come With More Variability
4/10/2018
The agriculture industry is in a tough spot; it's simultaneously tasked with feeding a growing population and minimizing its environmental footprint. For corn breeders, that means improving nitrogen-use efficiency and crowding tolerance, all while maximizing yield. The first step, according to a new study from the University of Illinois, is understanding the genetic yield potential of current hybrids.
"Growers and breeding programs need to understand which hybrids have stable yields across environments or are able to produce greater yields with more fertilizer and higher plant populations," says Fred Below, professor of crop physiology in the Department of Crop Sciences at U of I and co-author on the study.
A hybrid with high yield stability is less responsive to the environment – it will perform consistently in sub-optimal and optimal conditions. It's a workhorse: dependable, but not flashy. Alternatively, a hybrid with high adaptability will yield like gangbusters when planted in optimal conditions, but may let farmers down in a bad year. It's more like a racehorse: it'll go, but it's finicky.
The problem is that current commercial breeding programs develop their elite hybrids under optimal conditions – high levels of nitrogen fertilizer and plenty of space between rows – and only test yield responses to different crop-management practices at the pre-commercial stage. That means there is a limited understanding of each hybrid's stability and adaptability under variable conditions.
To fill the gap, Below and his research team evaluated 101 commercially available elite hybrids at two planting densities and three nitrogen fertilizer rates across multiple years and locations.
"The objective was to measure the interactions of the hybrid with the environment and management style by evaluating an extensive assortment of current maize hybrids for yields and classify them for yield stability and crop-management adaptability to improve future breeding programs," he says.
The researchers found that the amount of applied nitrogen fertilizer had a much greater effect on yield than planting density, but they emphasize that the consistency of the yield response was more important.
Hybrids that combined above-average yield under unfertilized and low-nitrogen conditions exhibited more consistent yields regardless of the environment, even when grown with high rates of nitrogen. These workhorse hybrids would be best used in nitrogen-loss prone areas, or when yield stability is more desired.
In contrast, other hybrids yielded more under high-nitrogen than low-nitrogen conditions, but their yields were more variable, due to a greater sensitivity to environmental conditions. These racehorse hybrids have potential for greater yield return when provided the optimal management and environment, but also carry a higher risk of underperformance in yield when faced with less-than-ideal conditions.
"Selecting hybrids with both high yields and yield stability may be challenging, since yield levels under lower nitrogen availability and yield increases with high nitrogen fertilization were negatively correlated," Below says. "Hybrids that are adaptable to high plant density and nitrogen conditions exhibited greater yield potential, but also greater yield variation."
"Yield stability differs in commercial maize hybrids in response to changes in plant density, nitrogen fertility, and environment," is published as an open access article in Crop Science [DOI: 10.2135/cropsci2017.06.0340]. Below's co-authors include Adriano Mastrodomenico, Jason Haegele, and Juliann Seebauer. This research was supported by the USDA's National Institute of Food and Agriculture [project NC1200], Illinois AES, Crop Production Services, Growmark, Monsanto, DuPont-Pioneer, Syngenta, Winfield United, and Wyffels Hybrids.
Source: University of Illinois
Export Outlook for Soybeans
3/20/2018
Recent adjustments to soybean export projections raise concerns about increased ending stocks this marketing year. Export projections for soybeans put forth by the USDA reflected recent market information associated with export pace and foreign export potential.
Despite drought conditions in Argentina, the prospect for a continued weakening of exports exists. According to University of Illinois agricultural economist Todd Hubbs, soybean export pace needs to pick up to avert a scenario leading to growing ending stocks during the remainder of the marketing year.
USDA projections for the marketing year decreased soybean exports by 35 million bushels to 2.065 billion bushels in the March WASDE report. "The reduction is the fourth consecutive month of soybean exports decreasing and signals the potential for further weakening in the months ahead," Hubbs says.
Projected soybean exports began the marketing year at 2.250 billion bushels last September and currently sit 185 million bushels lower, according to Hubbs. Census Bureau export estimates through January place soybean exports at 1.298 billion bushels. Census Bureau export totals came in 30.5 million bushels larger than cumulative marketing year export inspections over the same period.
"As of March 15, cumulative export inspections for the current marketing year totaled 1.478 billion bushels. If the same difference in export pace through the current period is maintained, total soybean exports equal 1.509 billion bushels," Hubbs adds. "For the rest of the current marketing year, 556 million bushels of soybean exports are required to meet the USDA projection."
Over the last ten marketing years, soybean export totals from March through August averaged 367 million bushels. The largest total, associated with the short crop in South America, occurred in the 2016-17 marketing year and came in at 519 million bushels. Hubbs explains that exports need to eclipse the level seen in the South American drought year to meet current projections from the USDA.
Lower soybean exports to China through the first half of the marketing year drive the weaker-than-expected export demand performance. Using Census Bureau export estimates, U.S. soybean exports to China through January totaled 867 million bushels, 209 million bushels behind last year's pace and 9.7 percent below the three previous marketing year average over the same period.
While China is the dominant market for soybean exports, Mexico, Thailand, Indonesia, the Netherlands, and Japan constitute 16 percent of this year's soybean export through January, according to Hubbs. In a similar manner to Chinese export weakness, soybean exports to Japan, the Netherlands, and Indonesia lag last year's pace by 19, 25, and 7.7 percent respectively through January. Alternatively, Mexico and Thailand exceeded last year's pace by 7.7 and 3.7 percent.
Looking forward, total outstanding sales through March 8 for the current marketing year totaled 353 million bushels. Outstanding sales to China, Mexico, Indonesia, and Thailand all exceed sales totals from the same time last year.
Currently, total outstanding sales come in 28 million bushels above last year. Mexico leads the way at 19 million bushels above last year's level. Additionally, outstanding sales to countries outside of the top six markets mentioned above exceed last year's level by 31 million bushels.
"The positive signs in export sales come with a note of caution due to the potential for trade disruptions and cancellations," Hubbs says.
Current data suggest soybean exports could reach the recently lowered USDA projection. Soybean exports typically begin a sharp seasonal decline in April. Due to this decline, a comparison of the needed rate to the average rate to date is not useful. Soybean exports for the rest of the marketing must strengthen considerably, Hubbs adds. The ability to attain the current projection hinges on the size of the current crop in South America and U.S. competitiveness in export markets.
The Brazilian soybean production forecast increased for the fourth straight month to 4.15 billion bushels. The expected increase in soybean production levels led to a 55 million bushel increase in the forecast for Brazilian soybean exports, up to 2.59 billion bushels.
Forecasts of Argentine soybean production reflect current dry conditions and currently sit at 1.73 billion bushels for the 2018 crop year, down 257 million bushels. According to Hubbs, the potential for an additional 250 million bushel decline in Argentinian production is a distinct possibility. Soybean export projections for Argentina fell 62 million bushels to 250 million bushels and continued reductions in production would lower this number.
USDA forecasts 2.84 billion bushels of soybeans exports from Brazil and Argentina over the marketing year, up from last year's 2.59 billion bushels. Stronger South American exports would continue to place downward pressure on U.S. soybean exports in 2018 despite the weather issues in Argentina.
"Recent data on soybean export pace indicate stronger weekly sales that offer hope for meeting the USDA projection," Hubbs says. "The size of the 2018 crop in South America and the competitiveness of U.S. export prices remain essential to determining U.S. export possibilities for the remainder of the marketing year."
Additionally, the March 29 Prospective Plantings report holds the potential for an increased acreage allotment in soybeans during 2018. Hubbs concludes that soybean export pace needs to pick up to avert a scenario leading to ending stocks growth in conjunction with increased production prospects in 2018.
Discussion and graphs associated with this article are available here: https://youtu.be/J-QcglJII9U
Source: University of Illinois
Wheat Waiting on Rain
Drought Dominates the Winter Wheat Landscape
ROCKVILLE, Md. (DTN) — Justin Knopf's farm in central Kansas went 120 days without a drop of moisture this winter.
Now his winter wheat crop is waking up, looking for water, and finding little to none.
"The Southern Plains drought is intense," said DTN Senior Ag Meteorologist Bryce Anderson. "Many stations in the region have had the driest winter in their recorded history, mostly going back to the 1880s."
A brief statewide deluge in early October gave early-planted wheat a boost in Kansas, said Kansas State University Wheat and Forages Extension Specialist Romulo Lollato. But it also kept many growers out of the field and produced one of the slowest winter wheat planting paces in decades.
The result is a thirsty, underdeveloped crop heading into the spring.
"Getting moisture in the next couple weeks will be absolutely crucial for holding on to whatever yield potential we still have," Lollato said. Until then, he recommends growers put nitrogen and fungicide plans on hold as long as they can.
SLOW START, SHALLOW ROOTS
"This was the slowest planting pace since 1994," Lollato said. "That means we had way less development in the crop going into the winter. Many had just one tiller and some no tillers at all, when we would normally like to see three to five tillers going into winter."
A sub-zero temperature plunge in early January may have produced some winterkill in parts of north-central Kansas, but for the most part, Lollato believes much of the winter wheat crop survived the winter.
For now.
"We've been doing some digging throughout the state and we're seeing a mismatch between where roots are and where the moisture is," Lollato explained. "We have crown roots only an inch long and the moisture is maybe seven inches down into the soil profile."
Knopf said up to a quarter of his winter wheat acres are coming out of the winter patchy and weak.
"It's greening up, but as soon as it gets warm out and they start to grow, it will use up the little moisture that is there, so it will be concerning if we don't get moisture as we start to get spring growth," he said. "And there's not much in the forecast."
Mother Nature may not cooperate, given that La Nina conditions took hold in the Pacific Ocean this past fall, Anderson warned.
"La Nina events have a high correlation to Southern Plains drought," he noted. "The 2010-2012 drought in the region was also a product of a multi-year La Nina."
STALLED MANAGEMENT PLANS
Knopf's operation has held off on nitrogen applications for now, but he's starting to get antsy, he confessed.
Without moisture, the wheat crop cannot take up any nitrogen, Lollato said.
"My advice is still to hold off, until there is a better chance of rain," he said. "Many producers are concerned that it's getting late, but wheat can be pretty responsive to nitrogen even as late as jointing."
In more-southern regions, wheat growers' spring nitrogen applications are actually stalled by too much moisture. See this news release from the University of Arkansas on the flooding affecting southern wheat acres: http://bit.ly/….
Southern Plains producers who are accustomed to doing an early fungicide application should also think twice. The dry conditions will likely keep many diseases at bay, which generally need moisture to spread, Lollato noted.
"This year so far, an early fungicide application would not be worth it because there is no disease pressure, and you need good yield potential to justify it," he said.
On the plus side, the wheat streak mosaic virus that destroyed many acres of wheat in 2017 likely won't be a major threat this year, Lollato added.
More producers were on alert to control volunteers because of the intense disease outbreak, and the dry fall kept volunteer wheat flushes in check.
"Once we had rain in late September and early October, whatever volunteer crop emerged simply acted as a normal crop because of the timing," Lollato explained. "So even those who didn't control their volunteers, they came up late enough not to harm us."
In Oklahoma and southern Kansas, some wheat is reaching hollow stem stages, which means it's time to remove cattle from any acres you want to harvest, he added.
For a refresher on how to scout your crop for winterkill or drought injury, see this Kansas State University article: http://bit.ly/….
Emily Unglesbee can be reached at Emily.unglesbee@dtn.com.
Follow Emily Unglesbee on Twitter @Emily_Unglesbee.
Top 10 Preseason Planter Tips
Go through this quick checklist before you start planting this spring.
Level the Planter. Check the hitch height. The tractor hitch height may vary due to the tractor tire size, tractor manufacturer, and the type of planter (Draw bar vs. 2 pt hitch). Refer to the planter operator's manual for set up. Make sure the planter's tool bar is level (vertically) or running slightly up hill. When planters tip down, coulters run too deep and closing wheels run too shallow.
Check Bushings and Parallel Linkage. Worn bushings increase row bounce which increases seed bounce. Stand behind the row unit and wiggle it up and down and back and forth checking to make sure bushings are tight.
Drive System. Check every chain. Kinked chains cause shock and vibration in the meter. Start with fresh, lubricated chains and check them daily. Include transmission chains, meter drive chains and insecticide box chains.
Calibrate Corn Meters. Calibrated meters can help add six or more bushels per acre. On finger units check brushes, fingers, springs, back plates and seed belts for wear. On air or vacuum planters check brushes, gaskets and disks or drums for cracks or wear. Replace all worn parts. A good cleaning will also help improve performance. It is recommended having finger units set on a MeterMax¹ planter stand.
Double Disk Openers and Depth Wheels
Double disk openers – Test to make sure there is good contact between the double disks. Slide a business card from the top down along the front of the disks until the card won't lower any further. Mark that spot with chalk. Then, take the card from the back and slide it forward until it stops. Mark that spot and measure the distance between the two marks. If it is less than two inches, reship or replace the disks. In general, the disks must be replaced when they loose 1/2 inches in diameter.Depth wheels – check rubber tires for cracks and wear. Wheels should run tight against double disk openers to ensure seed furrow does not collapse. Reduced inner diameter gauge wheels help to reduce sidewall compaction in wetter conditions such as reduced or no-till.
Seed Tubes. Inspect seed tubes for wear at the bottom. If the tubes have a small dog ear flap on the left side of the seed tube, turn constantly. They should gently turn sporadically, especially through areas of thick residue.
Closing Wheel System. Consider an alternative to rubber closing wheels. For cool, moist planting conditions, take a look at running one spike wheel (15 inches) and one rubber wheel (13 inches). The spike wheel can help chop the sidewall improving fracturing and sealing in the tough soil conditions. For no-till, an even more aggressive approach may improve trench closing. Two 13″ spike wheels with a drag chain provide the most aggressive action.
Closing Wheel Alignment. With your planter sitting on concrete, pull ahead about 5 feet. Look at the mark left behind the planter by the double disk openers. The mark should run right down the centerline between closing wheels. If a closing wheel is running too close to the mark, adjust the closing wheels to bring it back to center.
Row Cleaners. With higher levels of residue and more corn-on-corn, almost any planter can benefit from well adjusted row cleaners. Row cleaners sweep residue from the row, warming the soil around the seed trench, reducing wicking and seedling blight. Make sure row cleaners gently sweep residue – you don't want to move soil, just residue. Watch the row cleaners running. They shouldn't turn constantly. They should gently turn sporadically, especially through areas of thick residue.
Get Organized. Have your Crop Field Plans by hybrid/variety and populations organized; seed ready, planter monitors working/programmed and tractors/tenders in tune.
Corn growers have come to expect some rootworm damage, but University of Illinois entomologists say putting management plans in place now could help growers avoid major losses.
"Over the last few years, western corn rootworm populations with resistance to toxins present in common Bt corn hybrids have been documented in Illinois," says Joseph Spencer, insect behaviorist at the Illinois Natural History Survey (INHS) at U of I.
"We're specifically seeing resistance to Cry3Bb1 and mCry3A toxins, but we know that resistance to these toxins also confers resistance to the structurally similar eCry3.1Ab toxin," he says. "Cross-resistance among these 'Cry3' Bt toxins should be expected for Illinois western corn rootworm populations."
Resistance to pest-control practices in western corn rootworm is nothing new; the insect is notorious for developing resistance to control tactics such as insecticides and crop rotation. Part of the concern with these recent developments is that there are relatively few Bt toxins available to combat corn rootworm.
"All available hybrids with pyramided traits for corn rootworm use either Cry3Bb1 or mCry3A in combination with a second toxin, either Cry34/35Ab1 or eCry3.1Ab," Spencer says. "This means where resistance is present in the population, there might be at best only one effective toxin at work."
There are steps producers can take to manage corn rootworm and possibly slow further development of resistance. Nick Seiter, entomologist in the Department of Crop Sciences at U of I, says the best way to delay resistance to any control tactic is to reduce exposure of the target insect to that tactic in the environment. This can be accomplished using the following strategies.
Apply rootworm control, whether in the form of a Bt hybrid or a soil insecticide, only where it is economically justified. This determination should be based on sampling rootworm adults the previous year. According to surveys conducted by Kelly Estes, agricultural pest survey coordinator for Illinois Extension and INHS, densities of rootworm adults have been relatively low in recent years, although they did trend slightly upward in 2017.
"If you monitor using a yellow sticky trap, the economic threshold is two rootworm beetles per trap per day in corn following corn," Spencer says. "For rotated corn, the economic threshold is 1.5 western corn rootworm beetles per trap per day in soybean."
Rotating corn with soybean or another non-host crop remains an effective management strategy in the southern portion of the state. While crop rotation is no longer a reliable method to protect first-year corn from western corn rootworm damage in central and northern Illinois, Seiter notes, all larvae that hatch into soybean still die, and every acre planted to soybean is an acre where larvae are not being exposed to Bt toxins or soil insecticides.
Where monitoring indicates that control is justified in corn, rotate the control measures used from year to year. This means rotating Bt hybrids with different trait combinations and non-Bt hybrids treated with a soil insecticide.
"Follow all refuge requirements for any Bt corn hybrids you plant. In many cases, the 'refuge in a bag' or 'RIB' approach is now used, but check with your seed distributor on specific requirements for your hybrids," Seiter says.
Finally, an important step is to monitor the performance of control methods. While lodging is often the cue growers look out for to identify rootworm damage, it's important to remember that corn can take a lot of damage without lodging, and plenty of factors other than rootworm damage can lead plants to lodge.
"The best approach to evaluating rootworm damage is to dig a representative sample of roots in late July and evaluate them for feeding damage: unpleasant work, but necessary if we want to understand the true extent of the damage," Seiter says.
Consider planting a small area or a portion of a row with a non-Bt/untreated hybrid as a check strip. Having an untreated patch in the field will allow growers to compare the efficacy of the management tactic vs. the background level of damage where no rootworm protection was used.
Finally, if you experience greater damage than expected in Bt corn hybrids in 2018, let Seiter know by emailing nseiter@illinois.edu. "Your reports will help us document the status of resistance in Illinois and provide updated information to producers," he says.
For more information, read the full report on The Bulletin.
Source: University of Illinois