Trump EPA Shatters Rural Hopes with 31 New Refinery Exemptions
WASHINGTON, DC – The U.S. Environmental Protection Agency (EPA) has approved a shocking 31 new refinery exemptions. The handouts give oil refiners a free pass under the Renewable Fuel Standard, threatening to destroy an additional billion gallons of critical biofuel demand – on top of the 2.6 billion gallons already destroyed over the last two years. Growth Energy CEO Emily Skor issued the following statement:

"The EPA has proven beyond any doubt that it doesn't care about following the law, American jobs, or even the president's promises. Now farmers and biofuel producers are paying the price.

"These exemptions are destroying demand for homegrown energy at a time when family farms are struggling, farm income is plummeting and many ethanol plants have been forced to close their doors or idle production. The impact on rural communities cannot be overstated. President Trump must move quickly if there is any hope of repairing the damage. If he won't hold the EPA accountable, then he's failing to uphold the commitment he's made to rural America."-VIA GROWTH ENERGY
(LANSING) – The Michigan Corn Growers Association (MCGA) today thanked the U.S. Department of Agriculture (USDA) for providing increased flexibility under Federal Crop Insurance rules for utilizing forage and cover crops, including corn silage, on prevented plant acres.
"The extremely wet weather has created challenging planting conditions for farmers across Michigan this Spring and grain planting has approached the slowest pace on record," said Matt Frostic, president of MCGA. "This announcement by USDA will ensure the planting season is not a total loss and help offset some of the expected shortfalls in feed and forage availability. We thank USDA for providing some much-needed flexibility and relief for farmers during this tough season."
USDA's Risk Management Agency (RMA) announced that farmers will be able to plant forage, haylage or silage on acres of land that they have declared prevented planting and harvest those acres starting September 1. This change will allow farmers to utilize those crops when they are in the best condition and have the best nutritional value for animal feed. Previously, Federal Crop Insurance rules required farmers to wait until November 1 to harvest those acres.
Like other parts of the Midwest, large swaths of Michigan have seen precipitation measurements at double the normal rates. According to the USDA National Agricultural Statistics Service Great Lakes Region, grain planting in Michigan has approached the slowest pace on record due to relentless rain. Even the crops that have been successfully planted may see stunted growth or may require replanting.
The Michigan Corn Growers Association (MCGA) is a grassroots organization of grower members dedicated to increasing the profitability of corn production.  The MCGA is the only organization in Michigan that works solely on behalf of the state's corn growers for pro-agriculture legislation. The MCGA works to ensure that corn growers' voices are heard at the local, state and national levels. Find out more online at www.micorn.org.
The Environmental Protection Agency is proposing an increase in the biofuels mandate.
Two sources with knowledge of the proposal told Reuters that the agency wants to increase the volume of biofuels that refiners must blend annually to 20.04 billion gallons in 2020.
That's up from the requirement of 19.92 billion gallons in 2019.
The proposal is currently under review by other government agencies before it can be finalized.
It includes 15 billion gallons of conventional biofuels like ethanol, which is unchanged from this year.
The proposal also includes 5.04 billion gallons of advanced biofuels, such as those made from agricultural waste, up from 4.92 billion in 2019.
The biofuel mandate has helped farmers by creating a huge market for ethanol and other biofuels.
However, oil refiners say compliance with the mandate costs a lot of money.
An EPA spokesman did confirm that the agency has submitted the proposal but wouldn't comment on anything it contained.
As part of the advanced biofuel proposal, the agency set mandates for cellulosic ethanol at 540 million gallons and non-cellulosic at 4.5 billion gallons.
The agency also set a biodiesel mandate of 2.43 billion gallons for 2021.
Biofuel stakeholders want EPA to get rid of the excess baggage and get E15 to the finish line before summer driving season starts.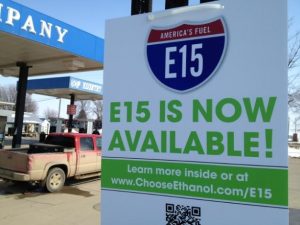 The comment period on EPA's proposed rule "Modifications to Fuel Regulations to Provide Flexibility for E15; Modifications to RFS RIN Market Regulations" ended Monday with major organizations sending in theirs at the end of the day.
The Renewable Fuels Association (RFA) strongly supports the proposed regulatory fix would allow year-round sales of E15 in conventional gasoline markets for the first time, but discouraged EPA from finalizing any of the four proposed Renewable Identification Number (RIN) market reforms.
The American Coalition for Ethanol (ACE) CEO Brian Jennings said, "With just over 30 days to go until the start of the 2019 summer driving season, time is of the essence. We encourage EPA to move forward to finalize a rule allowing RVP relief for E15 but to cast aside the unnecessary and harmful proposals to reform the RIN market."
"Unless the EPA acts quickly, the summer market for E15 will be lost, which means higher fuel prices for consumers and another devastating blow to America's rural workforce," said Growth Energy CEO Emily Skor. "We cannot afford to let anything derail this opportunity to help revitalize growth in the heartland, and urge regulators to get this rule over the finish line by June 1, just as President Trump directed.
The National Corn Growers Association (NCGA) also supports EPA's proposal to provide parity for E15 with standard 10 percent ethanol blends, NCGA cautioned EPA against finalizing proposed Renewable Identification Number (RIN) market rule changes that would be counterproductive to greater biofuels blending supported by the E15 rule.
The National Biodiesel Board also disagreed with EPA's proposal to modify RIN market regulations without first showing data-based evidence of problems within the RIN market. "The proposed RIN market reforms are unnecessary, as EPA has yet to see data-based evidence of RIN market manipulation. Reforming a system that, while certainly not perfect, is working as intended with no evidence of manipulation has the potential to disrupt and even undermine the system that obligated parties use to demonstrate compliance with the RFS," NBB writes in the comments.
Assessing Personnel Management Skills
April 8, 2019
Introduction
As farms continue to consolidate it becomes increasingly important to assess a farm's management skills.  At a certain farm size, it is no longer easy or feasible for the manager or managers to wear every management hat.  How does the management team determine when to focus on professional development, delegate management tasks among mangers, and seek outside assistance?  This is the fourth article in a series of articles pertaining the assessment of management skills.  The topic of this article is the assessment of personnel management skills.
Personnel Management Skills Assessment
Table 1 presents important personnel management skills.   Skills listed include utilizing job descriptions; providing training and orientation to employees; developing a compensation package based on job responsibilities and performance; utilizing formal interview and search procedures when hiring employees; conducting formal performance appraisals; identifying, developing, and promoting top performers; delegating authority and responsibility to others; and offering strong reasons for talented people to join the farm.  Each farm operator should rank their ability with respect to each skill using a 1 to 5 scale with 1 be relatively weak and 5 being relatively strong with respect to that skill.  The idea behind checklists such as that presented in Table 1 is to assess whether a farm has a skills gap, which is defined as the difference between skills that a farm needs and the skills of their current workforce (operators and employees).  Conducting a skills gap analysis helps a farm to identify skills that will be needed to become more efficient and expand.  It can also be an important input into hiring programs, employee development plans, or hiring outside consultants.
The checklist in Table 1 does not include a final tally score, nor does it address tradeoffs in various skill or ability areas that may lead to success.  Rather, the checklist helps farm operators evaluate their skills and abilities in areas critical to long-term financial success.  As farm operators fill out the checklist, they should try to determine which of the skills listed are most essential to improving efficiency and expansion plans.
The Functions of Management
The five functions of management include planning, organizing, controlling, staffing, and directing.  Planning provides direction for the business.  Organizing involves grouping the tasks to be done and then assigning individuals or groups to accomplish these tasks.  The control function examines how well actual farm performance relates to business plans and goals.  Staffing relates to hiring employees and developing them to achieve goals and objectives.  Directing involves supervising and guiding employees so that the employees can successfully complete their assigned tasks.
Staffing and directing are related to the skills listed in Table 1.  Before discussing these two management functions, it is important to note that managing both family and non-family employees is essential for business success (Erven, 2000; Erven and Milligan, 2000; Lencioni, 2002).  As farms grow, they often need to hire additional employees.  In tight labor markets, farms must compete with non-farm businesses for quality employees.  We encourage farms to answer the following question.  Is my farm a highly desirable place of employment?
Staffing
The staffing management function includes employee recruitment, employee selection, training and orientation, and managing employee performance (Milligan and Maloney, 1996).  When recruiting employees, a farm needs to assess the external environment, identify long-term personnel needs, and develop a recruitment plan.  The selection process involves developing an application, setting up an interview process, checking references, and determining whether a trial period is needed for a particular job.  Effectively training an employee can help avoid error and poor performance.  Part of the training process is to develop an orientation program, particularly pertaining to the first few days of employment.  Performance management involves establishing performance expectations, providing regular coaching and feedback regarding employee performance, and conducting a performance appraisal interview.
Directing
The directing management function includes leadership, employee motivation, communicating, employee discipline and discharge, and total quality management (Milligan and Maloney, 1996).  Leadership dimensions include vision, motivation, integrity, and knowledge.  A motivational work environment can be accomplished by hiring individuals with the potential to achieve, considering individual wants and needs, and setting a good example.  Part of motivation is related to compensation (wages, benefits, and perks).  However, compensation is not the "be all and end all" when it comes to motivating employees.  In addition to oral communication, good communication involves listening and effectively managing conflict.  To attain peak productivity of employees, the supervisor needs to have a vision of what success means, communicate that vision to employees, create performance standards, and provide the training and resources needed for employees to meet performance standards.  Discipline occurs when an employee's performance is not consistent with established standards.  Total quality management involves managing quality, technology, changing work force expectations, and competitiveness.  Successful supervisors have a commitment to success, accept that people are a critical asset to the business, and are committed to providing the training and support needed for employees to improve on the job.
Concluding Comments
Assessing management skills is an important part of benchmarking farm performance and figuring out where improvements may be needed.  If the operators on the farm identify management areas which are not currently being addressed, they will need to determine whether someone is going to get up to speed with regard to these areas or outside help is going to be sought to address weaknesses.
Personnel management skills help ensure that all individuals in the organization understand their roles, be trained to perform them, and work effectively as a team.  Good human resource managers are not born.  Rather, they learn their personnel management skills over time through effort and attention.  Learning these skills can reap rewards such as employee retention, low turnover, and improved productivity.
References
Erven, B.L.  "Building Your Reputation as an Employer," Department of Agricultural, Environmental and Development Economics, Ohio State University, August 2000.
Erven, B.L. and R.A. Milligan.  "Business Success through People-Oriented Management," August 2000.
Lencioni, P.  The Five Dysfunctions of a Team.  San Francisco: Jossey-Bass, 2002.
Mahoney, T.R. and R.A. Milligan.  "Human Resource Management for Small Business Managers," 1996.
Source: Michael Langemeier, Farmdocdaily
USDA Reports Provide Surprises for Corn
April 2, 2019
The USDA's quarterly Grain Stocks report and annual Prospective Planting report delivered surprises to the corn market.  A greater than expected corn stocks number combined with higher than expected planted acreage of corn gave very bearish news to corn prices.  Soybean stocks and acreage came in neutral to slightly positive for soybean prices.
March 1 corn stocks came in at 8.605 billion bushels compared to an average trade guess of 8.335 billion bushels. The stocks estimate suggested feed and residual use of corn during the first half of the 2018-19 marketing year came in eight percent lower than last marketing year.  Lower feed and residual use materialized despite a sizable livestock herd and reduced production of distiller's grains on weakening ethanol grind.  A higher stocks estimate suggests the potential for underestimation of the 2018 crop size and supports the notion of declining demand for corn during the second quarter of the marketing year.
Corn producers reported intentions to plant 92.8 million acres of corn this year, 3.66 million more than planted last year.  The reported corn acreage exceeded trade expectations by 1.4 million acres.  The intention to increase corn acreage is widespread throughout the Corn Belt.  Acreage is up 400,000 acres in Iowa, 200,000 in Illinois, and 150,000 in Indiana.  Significant increases in corn acreage intentions showed up in the Northern Plains with North Dakota intending to plant 900,000 additional acres and South Dakota up 700,000 acres.  Overall, the top ten corn producing states increased acreage by 2.05 million acres.  If the intention to plant 92.8 million acres materializes, harvested acreage for grain may be close to 85.4 million acres.  A U.S. average yield near 174.6 bushels per acre leads to a projection of production in 2019 of 14.9 billion bushels.  Corn production at this level exceeds current marketing year use projections by 300,000 bushels.  Corn use is expected to be higher in the 2019-20 marketing year, but the current implication of slowing use in the current marketing year and a larger crop next year is higher ending stocks.
The soybean stocks report appears neutral for soybean prices.  March 1 soybean stocks estimates indicated 2.72 billion bushels, which came in above trade expectations by 33 million bushels. The stocks estimate implies seed and residual use of soybeans during the first half of the marketing year at 203 million bushels.  Seed and residual use is up from last year and at the highest levels since the 2014-15 marketing year.  The implications for soybean use this marketing year remain at previous levels and continue to rely on a resolution to trade issues.
Soybean planting intentions indicated farmers plan to plant 84.6 million acres of soybeans, down 4.6 million acres from last year.  The soybean acreage intentions came in 1.55 million acres below of market expectations.  Intentions to reduce soybean acreage spans most major production regions.  In major producing states, the intention to plant fewer soybean acres is indicated by 300,000 fewer acres in Illinois, 600,000 in Iowa, and 500,000 in Minnesota.  If 84.6 million acres are planted, harvested acreage could be close to 83.6 million acres.  At a U.S. average yield of 49.4 bushels per acre, 2019 production projects to 4.13 billion bushels, 88 million bushels larger than current marketing year use projections.  Without a significant change in soybean use over the next year, ending stocks appear set to increase slightly.
In addition to the allocation of acreage to corn and soybeans, the magnitude of total principal crop acreage shows a 4.2 million acre decrease from 2018.  The USDA estimates that acreage planted to principal crops totals 315.4 million acres. The planned reduction in total planted acreage from that of a year ago showed up in feed grain crops other than corn.  Sorghum acreage is projected to be 555,000 acres lower than a year ago at 5.18 million acres.  Wheat acreage decreased two million acres to 45.8 million acres.  Oat acreage declined by 191,000 acres.  Acreage of oilseeds other than soybeans is projected to fall by 15,000 acres.  Harvested acreage of hay is expected to increase by 215,000 acres.
The surprise in March 1 stocks and acreage created a bearish scenario for corn prices.  The large corn stock number influences the consumption of corn in the feed and residual category directly during the current marketing year.  An expectation of reduced feed and residual use is prudent moving forward.  Without a resolution to the trade dispute, growth in ending stocks in both corn and soybeans appears feasible over the next year.   Planting intentions confirmed the belief that farmers would switch to corn production in 2019.  Depending on field conditions during the planting season and the changing price relationship between crops, the possibility of greater soybean acreage than reported in March exists.  The June Acreage report will provide more clarification.
YouTube Video: Discussion and graphs associated with this article
Source: Todd Hubbs, Farmdocdaily
How Tough of a Year was 2018 for Ethanol Production Profits?
February 14, 2019
The U.S. ethanol industry faced considerable headwinds in 2018, including the lowest prices over the last decade, policy setbacks in the implementation of the RFS, and political resistance to granting a year-round RVP waiver for E15.  The impact of these headwinds on ethanol production profits is certainly of interest to those in the ethanol industry, as well as policymakers and legislators interested in the financial health of the U.S. renewable fuels industry.  The purpose of this article is to estimate the profitability of U.S. ethanol production in 2018 using the same basic model of a representative Iowa ethanol plant that has been used in earlier farmdoc daily articles on the subject (e.g., January 6, 2016; February 1, 2017; March 14, 2018).
Analysis
As noted above, a model of a representative Iowa ethanol plant is used to track the profitability of ethanol production.  The model is meant to be representative of an "average" ethanol plant constructed in the last decade.  There is certainly substantial variation in capacity and production efficiency across the industry and this should be kept in mind when viewing profit estimates from the model.  Some of the model assumptions include:
Dry mill plant constructed in 2007
100 million gallon annual ethanol production capacity
Plant construction costs of $2.11 per gallon of ethanol production capacity
40% debt and 60% equity financing
25% interest on 10-year loan for debt financing
A total of $0.21 fixed costs per gallon of ethanol produced
Non-corn, non-natural gas variable costs (including denaturant) of $0.21-$0.26 per gallon in 2007-2011
Non-corn, non-natural gas variable costs excluding denaturant of $0.16 -$0.17 per gallon after 2011
Variable denaturant costs after 2011 computed as 2 percent of wholesale CBOB price
30 cubic feet of natural gas per gallon of ethanol
80 gallons of ethanol (including denaturant) produced per bushel of corn processed
16 pounds of dried distillers grain (DDGS) produced per bushel of corn processed
55 pounds of corn oil per bushel of corn processed (starting in January 2012)
Netback (marketing) costs of $0.05 per gallon of ethanol and $4 per ton of DDGS.
To track plant profitability over time, weekly ethanol and DDGS prices at Iowa ethanol plants are collected starting in late January 2007.  Crude corn oil prices for the Midwest are available from OPIS.  Natural gas costs over 2007-2013 are estimated based on monthly industrial prices for Iowa available from the EIA.  Since January 2014 the Iowa industrial price has only been reported sporadically, and when reported, has been out-of-line with its historical relationship to nearby natural gas futures prices.  Consequently, a regression relationship between nearby natural gas futures prices and natural gas costs over 2007-2013 is used to estimate natural gas costs starting in January 2014.
Figure 1 presents the three components of plant revenue per gallon—ethanol, DDGS, and corn oil—on a weekly basis from January 26, 2007 through February 1, 2019.  The chart shows that ethanol prices (net of netback marketing costs) started 2018 at historically low levels of $1.25 per gallon, rose to a peak of $1.43 in April, and then fell most of the rest of the year, reaching a low of $1.06 in late November.  The November low was the lowest weekly price for ethanol in this time period.  DDGS prices were a bright spot for the ethanol prices for most of 2018, with prices generally ranging from 1.1 to 1.3 times the price of ethanol.  This was a major turnaround in DDGS prices from 2017.  The rise in DDGS prices was not enough to lift total revenue in 2018 above 2017 levels.  Total revenue in 2018 averaged $1.75 per gallon compared to $1.76 per gallon in 2017.  Figure 2 shows the four major cost components for producing ethanol.  The cost of corn is the major input cost, about 70 percent of variable and fixed costs on average, and since the price of corn was relatively stable again in 2018, average total variable costs for the year of $1.55 per gallon was only slight higher than in 2017.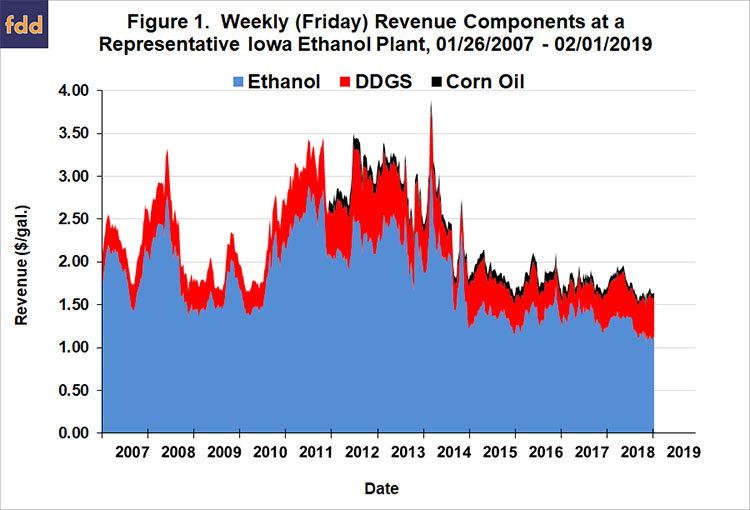 Figure 3 presents (pre-tax) estimates of ethanol production profits net of all variable and fixed costs.  Net profits in 2018 averaged a loss of -$0.02 per gallon, compared to gains of $0.03 in 2017, $0.12 in 2016 and $0.07 in 2015.  In reality, the pattern of net profits in 2018 was a tale of two periods.  The average net profit from January through July was a respectable $0.05 per gallon.  Mirroring the sharp decline in ethanol prices, returns from August through December averaged a loss of -$0.11 per gallon.  Net profits turned negative in the second week of August 2018 and have remained so through the most recent week of available data.  This is a run of 26 consecutive weeks of losses and counting.  The depth of the losses experienced in the last five months of 2018 is highlighted in Figure 4, which shows the market price of ethanol at plants (net of marketing costs) and the shutdown price for the representative plant.  The shutdown price equals variable costs minus non-ethanol revenue (DDGS and corn oil).  The market price dipped below the shutdown price in late November 2018 for the first time since December 2012.  The market price has remained very close to the shutdown price through early February 2019.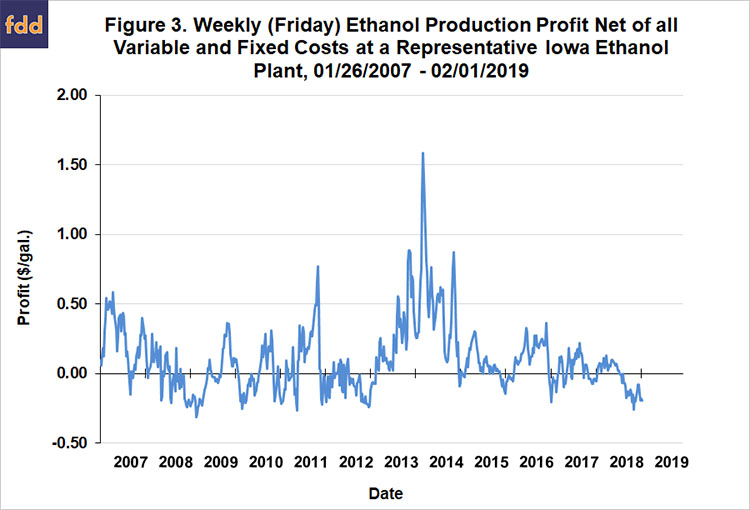 There is no mystery as to the cause of the steep ethanol production losses in 2018. As highlighted in the farmdoc daily article of February 8, 2019, the U.S. ethanol industry was rocked by low prices in 2018, especially in the second half of the year when prices reached their lowest levels in over a decade.  The real argument is the driving force behind the low prices.  The ethanol industry has placed much of the blame for the low prices on small refinery exemptions (SREs) granted under the Renewable Fuel Standard (RFS) by the U.S. EPA.  While there is no doubt that SREs have opened a backdoor mechanism for the EPA to reduce the statutory and obligated RFS volumes, the evidence shows that the physical use of ethanol has declined little if any during  the last year (September 13, 2018; December 13, 2018; January 16, 2019; January 24, 2019; January 31, 2019).  Instead, the evidence points to overproduction as the most likely explanation for the low ethanol prices (farmdoc daily, February 8, 2019).  While domestic and export use for U.S. ethanol have increased since 2014, both production capacity and actual production have increased even faster.  For example, ethanol production in the U.S. looks to have topped 16 billion gallons for the first time in 2018 and this has simply been too much for the domestic and export fuel markets to absorb. The result is that ethanol stocks have risen sharply (Figure 5) and this has led to declining ethanol prices and profits.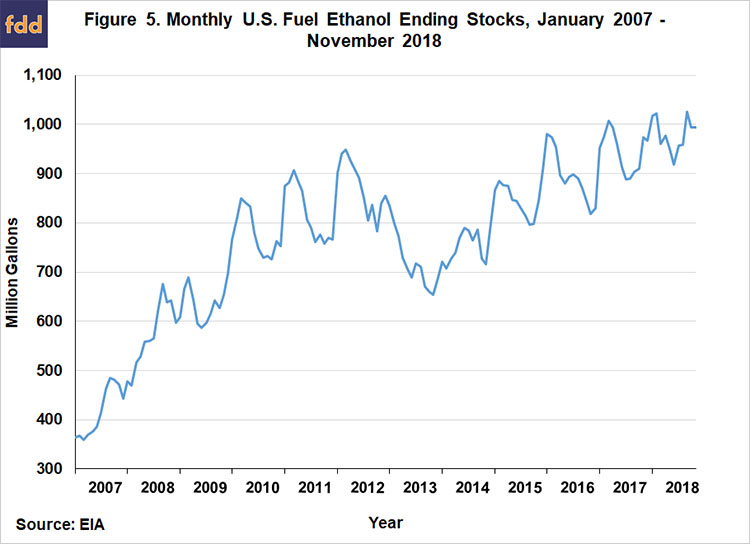 Additional perspective on ethanol production profitability is provided in Figure 6, where the profit margins are aggregated over an annual horizon for 2007-2018.  Profits are presented in terms of both total pre-tax net returns and percent return to equity.  The 2018 net loss of -$2.2 million was the first annual loss since 2012 and only the fourth annual loss over 2007-2018.  With the loss, the total cumulative (pre-tax) return to equity holders for the 2007-2018 period stands at $122.0 million, slightly less than the assumed equity investment for the representative plant of $126.6 million.  We can use the average net loss for the representative plant to make a rough estimate of profit for the entire U.S. ethanol industry in 2018.  Assuming all plants in the industry earned a net loss of -$0.02 per gallon and that total ethanol production for the U.S. was 16.1 billion gallons in 2018, aggregate ethanol industry (pre-tax) losses can be estimated at -$354 million.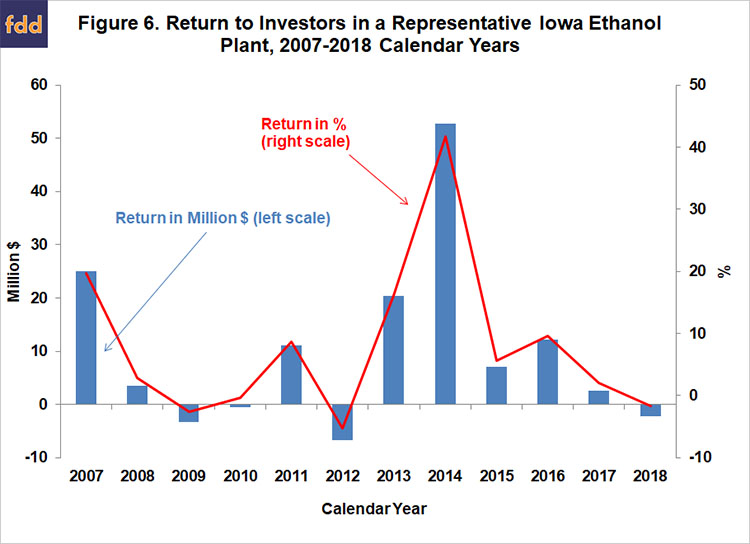 Finally, the percent return to equity holders provides useful information on the attractiveness of investment in ethanol plants relative to other investments.  The average return was 8.3 percent over 2007-2018 and the standard deviation, a measure of risk, was 13.0 percent.  By comparison, the average return for the stock market over this period, as measured by the S&P 500, was 8.7 percent and the associated standard deviation was 17.7 percent.  The ratio of average return to standard deviation provides one measuring stick of an investment's return-risk attractiveness, and on this measure the ratio for ethanol investment, 0.62, continues to compare favorably with the ratio for the stock market as a whole, 0.49.  This provides important context when considering the losses experienced by ethanol producers in 2018.  Even with this loss included in the data, ethanol plants have a more than respectable record of investment performance over the last dozen years.
Implications
The ethanol industry in 2018 experienced its first losing year since 2012, thereby ending a run of five consecutive years of positive returns.  The estimated loss for a representative Iowa ethanol plant in 2018 was -$2.2 million.  While large, the 2018 loss was still far less than the -$6.7 million loss in 2012.  The evidence points to overproduction as the driving force behind the low prices and financial losses experienced by ethanol producers during 2018.  The fortunes of the U.S. ethanol industry are unlikely to improve until production and use are better balanced.  This will require shuttering some production capacity, additional demand, or some combination of the two.  The most optimistic scenario is additional demand for U.S. ethanol exports as part of a trade deal with China.
References
"Annual Returns on Stock, T.Bonds and T.Bills: 1928 – Current." Obtained by Damodaran, A. from the Federal Reserve database in St. Louis (FRED). Last updated January 5, 2019, accessed February 13, 2019.  http://pages.stern.nyu.edu/~adamodar/New_Home_Page/datafile/histretSP.html
Irwin, S. "Why are Ethanol Prices So Low?" farmdoc daily (9):23, Department of Agricultural and Consumer Economics, University of Illinois at Urbana-Champaign, February 8, 2019.
Irwin, S. "Understanding the Price of E85 Relative to E10." farmdoc daily (9):17, Department of Agricultural and Consumer Economics, University of Illinois at Urbana-Champaign, January 31, 2019.
Irwin, S. "What's Behind Rising E85 Use?" farmdoc daily (9):13, Department of Agricultural and Consumer Economics, University of Illinois at Urbana-Champaign, January 24, 2019.
Irwin, S. "Small Refinery Exemptions and E85 Demand Destruction." farmdoc daily (9):8, Department of Agricultural and Consumer Economics, University of Illinois at Urbana-Champaign, January 16, 2019.
Irwin, S. "More on Small Refinery Exemptions and Ethanol Demand Destruction." farmdoc daily (8):228, Department of Agricultural and Consumer Economics, University of Illinois at Urbana-Champaign, December 13, 2018.
Irwin, S. "Small Refinery Exemptions and Ethanol Demand Destruction." farmdoc daily (8):170, Department of Agricultural and Consumer Economics, University of Illinois at Urbana-Champaign, September 13, 2018.
Irwin, S. "What Happened to the Profitability of Ethanol Production in 2017?" farmdoc daily (8):45, Department of Agricultural and Consumer Economics, University of Illinois at Urbana-Champaign, March 14, 2018.
Irwin, S. "The Profitability of Ethanol Production in 2016." farmdoc daily (7):18, Department of Agricultural and Consumer Economics, University of Illinois at Urbana-Champaign, February 1, 2017.
Irwin, S. "The Profitability of Ethanol Production in 2015." farmdoc daily (6):3, Department of Agricultural and Consumer Economics, University of Illinois at Urbana-Champaign, January 6, 2016.
Source: Scott Irwin, Farmdocdaily
On Monday, the U.S. Department of Agriculture's Economic Research Service (ERS) published an overview of the Conservation Title of the 2018 Farm Bill.  Today's update looks at a couple key points from the ERS summary.
After highlighting several changes to specific programs in the Conservation Title, ERS turned to a broader focus on the economic implications of the new provisions.
The ERS update explained that, "For FY2019-FY2023, the CBO [Congressional Budget Office] projects mandatory spending on farm bill conservation programs that is slightly higher than projected baseline spending (spending under an extension of 2014 Farm Act programs, without modification, through 2023). For the five largest conservation programs (and predecessors), inflation-adjusted spending increased under both the 2002 and 2008 Farm Acts (2002-2013, see chart below), but was lower under the 2014 Farm Act (2014-2018). CBO projections suggest that the 2018 Act could provide slightly higher funding, on average, than under the 2014 Act. Although program funding is mandatory (does not require appropriation), spending in future years is subject to congressional review and, under past farm acts, has sometimes been reduced from specified levels."
"Agriculture Improvement Act of 2018: Highlights and Implications. Conservation: Title II." USDA's Economic Research Service (https://goo.gl/hNh4Rx, February 11, 2019).
In addition, ERS stated that, "While overall conservation funding is roughly equal to baseline levels for FY2019-FY2023, the 2018 Act shifts funding among programs. The acreage enrollment cap in the Conservation Stewardship Program (CSP) is replaced with a funding cap that implies lower spending in the future. Contracts signed under the acreage-limited CSP will continue; contracts that expire before December 31, 2019 can be renewed. Going forward, the 2018 Act sets spending limits of $700 million for FY2019, increasing to $1 billion by FY2023. CSP funding was $1.32 billion in FY2018 (estimated) and was projected to be roughly $1.75 billion per year, on average, for FY2019-FY2023 according to the CBO.
Over the next several years, as spending for existing CSP contracts ramps down and spending on new contracts ramps up, CSP spending will eventually reach an overall lower level of spending commensurate with new limits.
"In contrast, the Environmental Quality Incentives Program (EQIP) funding is increased from $1.75 billion in FY2019 to $2.025 billion in FY2023, compared to an averagebaseline of $1.75 billion over FY2019-FY2023. Funding is also increased for the Agricultural Conservation Easements Program (from $250 million to $450 million annually) and the Regional Conservation Partnership Program ($100 million to $300 million annually). Conservation Reserve Program (CRP) funding is projected to decline (a total of -$189 million) over FY2019-FY2023."
Monday's update also pointed out that,
Changes in major conservation program funding under the 2018 Act will effectively halt the shift toward increasing the share of conservation funding for working land programs that began with the 2002 Act and continued under the 2008 and 2014 Acts.
"While funding has shifted toward working land programs in every farm bill since 2002, the size of the shift has declined in each subsequent farm act. Under the 2014Act, working land program funding accounted for a majority (53 percent) of major conservation program funding for the first time. Under the 2018 Act, spending for working land programs will again account for about 53 percent of the five largest programs. (Working land programs are defined here to include EQIP and CSP. Other programs can also support working lands.  Agricultural Conservation Easement Program (ACEP) can help preserve working agricultural land that would otherwise be developed. Some CRP continuous signup practices (e.g., filter strips) may also complement crop production. Regional Conservation Partnership Program (RCPP) can fund a wide range of practices.)"
"Agriculture Improvement Act of 2018: Highlights and Implications. Conservation: Title II." USDA's Economic Research Service (https://goo.gl/hNh4Rx, February 11, 2019).
ERS also explained that, "While the overall acreage cap for the Conservation Reserve Program is increased from 24 million to 27 million acres under the 2018 Act, other changes could limit the size of annual rental payments and may reduce enrollment incentives. Annual rental rates could be affected by two provisions. The first affects the determination of county average soil rental rates (SRRs). County-average SRRs, which were equal to the county-average rental rate for non-irrigated cropland under previous farm acts, would be set 15 percent below county-average rates for general signup and 10 percent below county-average rental rates for continuous signup. Because county-average SRRs underlie CRP limits on annual rental payments, these provisions could result in rental payments as much as 15 percent lower for general signup and 10 percent lower for continuous signup. Actual limits established for CRP implementation can also include adjustments to the county-average SRR, including adjustments (up or down) for field-specific soil quality. The second new CRP provision applies only to land that has already been in CRP. For these lands, an overall countywide ceiling on annual rental rates would also apply. Annual rental rates could not exceed 85 percent of the county average rental rate (not the county-average SRR) for general signup and 90 percent for continuous signup."
Source: Keith Good, Farm Policy News
Social isolation and loneliness are increasingly being recognized as urgent public health threats, with risks to health and mortality as serious as those from obesity or smoking. Some researchers have cautioned that rural residents could be at greater risk for isolation due to the increased distances they must travel to visit their friends and family.
A new University of Minnesota School of Public Health study looked at objective and subjective measures of isolation and loneliness among rural and urban older adults and found that, overall, people in rural areas actually reported less social isolation and more social relationships than urban residents.
The study, led by Assistant Professor Carrie Henning-Smith and co-authored by Associate Professor Katy Kozhimannil and Professor Ira Moscovice, was recently published in The Journal of Rural Health.
Henning-Smith discovered the differences in social isolation among rural and urban residents by reviewing data from the National Social Life, Health, and Aging Project, a survey of 2,439 older adults (age 65 and older) and their spouses or partners. She compared county-level survey data from people living in large cities (metropolitan), small towns (micropolitan), and very rural areas (noncore).
Among those groups of residents, Henning-Smith examined:
their reported levels of social support (whether a respondent said they can open up to or rely on family or friends);
their number of social relationships (close family and friends, children and grandchildren, marital status);
their measured level of loneliness using the three-item UCLA Loneliness Scale, including how often they felt left out, lacked companionship, and felt isolated.
Analysis of the data showed that:
rural noncore residents had more living children and grandchildren and were more likely to say they could rely on friends compared to metropolitan residents;
rural micropolitan residents were more likely than metropolitan residents to say that they could rely on family;
both rural noncore and micropolitan residents were more likely than metropolitan residents to report that they have more than 20 friends;
despite having more social relationships, rural noncore residents were also significantly more likely than metropolitan residents to say that they feel left out (one important measure of loneliness) often or some of the time;
more than 25 percent of micropolitan and approximately 20 percent of metropolitan and noncore residents reported socializing with others less than once a month;
having more education was associated with more loneliness for metropolitan but not micropolitan or noncore residents;
being non-Hispanic Black was associated with significantly higher loneliness scores for noncore, but not metropolitan or micropolitan residents;
noncore Black residents were four times more likely to be lonely than noncore White residents.
"This study found significant variation by rurality in various measures of social isolation and loneliness," said Henning-Smith. "It also found variation within types of geography in risks for loneliness. For instance, rural noncore Black residents were more likely to be lonely than noncore White residents. Further, the finding that rural residents have more social relationships, but are still more likely to report feeling left out shows that social isolation needs to be examined across a range of subjective and objective traits and experiences. No one measure can capture the full extent of social participation or isolation."
Henning-Smith also said there is a critical need for more information on the prevalence and risk factors for being isolated and lonely by geography in order to design targeted, effective interventions, such as community programming, social support groups or volunteer opportunities.
"This study finds that while, on average, rural residents report more social relationships, some rural residents are still at a much higher risk of being lonely. Those disparities should be addressed by policy and public health interventions," said Henning-Smith. "Further, more relationships alone is not enough to protect rural residents from feeling lonely; more should be done to facilitate meaningful social connections."
Henning-Smith is the deputy director of the School of Public Health's Rural Health Research Center and is the lead author on two "policy briefs" providing more information on the topic of rural social isolation (1, 2).
This study was funded by a grant from The Federal Office of Rural Health Policy.
Source: University of Minnesota
January 31, 2019
Earlier this week, the U.S. Department of Agriculture's Economic Research Service (ERS) published a report that looked at trends in the development of drought-tolerant corn in the United States.  Today's update looks at some key points from the ERS report.
On Monday, ERS Economists Jonathan McFadden, David Smith, Seth Wechsler, and Steven Wallander published a report titled, "Development, Adoption, and Management of Drought-Tolerant Corn in the United States," which stated that, "Droughts have been among the most significant causes of crop yield reductions and losses for centuries. Although Federal disaster program and crop insurance payments tend to be higher during droughts, they typically do not fully compensate farmers for drought-related losses."
The report explained that, "Drought tolerance in corn is a characteristic that has been the subject of research for decades, but has only recently been commercialized. Drought-tolerant (DT) corn produced using conventional breeding methods was commercially introduced in 2011. Hybrids genetically engineered (GE) for drought tolerance were introduced in 2012, but were not broadly available until 2013. GE drought tolerance protects corn plants from drought somewhat differently than conventionally bred drought tolerance and generally took more time to commercialize, both of which can influence the timing of adoption. However, the vast majority of DT corn planted in 2016 had one or more GE traits (e.g., herbicide tolerance and/or insect resistance)."
The ERS authors pointed out that,
Over one-fifth of U S corn acreage was planted with DT corn in 2016.  DT corn accounted for only 2 percent of U.S. planted corn acreage in 2012. By 2016, this share had grown to 22 percent. The pace of adoption is similar to the adoption of herbicide-tolerant corn in the early 2000.
McFadden, Jonathan, David Smith, Seth Wechsler, and Steven Wallander.  Development, Adoption, and Management of Drought-Tolerant Corn in the United States, EIB-204, U.S. Department of Agriculture, Economic Research Service, January 2019.
More narrowly, the report pointed out that, "At least 80 percent of DT corn acres were planted in 2016 with seed conventionally bred for drought tolerance.  Just under 20 percent of DT corn acres were planted with seed genetically engineered for drought tolerance in 2016. At the national level, 3 percent of all U.S. corn acres in 2016 were planted with seed that had been genetically engineered for drought tolerance."
With respect to the geography of DT corn adoption, Monday's report stated that, "In 2016, drought-tolerant (DT) corn was grown in 18 States where at least 1 million acres of corn were planted. However, adoption rates were highest in areas where DT corn was developed and initially marketed. Over 4 million acres of DT corn—or 42 percent of State corn acreage—were planted in Nebraska, a semi-arid western Corn Belt State. Approximately 2 million acres of DT corn (39 percent of State corn acreage) were cultivated in Kansas, a State with a relatively similar climate. Corn Belt States with relatively wetter climates—Iowa, Illinois, and Indiana—had 1.1 to 2.2 million DT corn acres each, though these acreages represent smaller shares of each State's total, roughly 16 to 21 percent."
McFadden, Jonathan, David Smith, Seth Wechsler, and Steven Wallander. Development, Adoption, and Management of Drought-Tolerant Corn in the United States, EIB-204, U.S. Department of Agriculture, Economic Research Service, January 2019.
McFadden, Smith, Wechsler and Wallander also indicated that, "Between 2011 and 2015, the most damaging droughts experienced during the corn-growing season in each county of our 19-State survey area tended to be classified as severe, extreme, or exceptional. The most severe drought for many counties during this period occurred in2012 and was particularly serious in Colorado, western Texas and Kansas, southern Missouri and Illinois, western Kentucky, and certain areas of Indiana and Georgia."
McFadden, Jonathan, David Smith, Seth Wechsler, and Steven Wallander. Development, Adoption, and Management of Drought-Tolerant Corn in the United States, EIB-204, U.S. Department of Agriculture, Economic Research Service, January 2019.
Following this point, the ERS report noted that, "Regional differences in drought severity and recentness of exposure significantly influence adoption of DT corn.
Only 14 percent of fields located in areas that did not experience a July drought (i.e., none or abnormally dry classifications) from 2011 to 2015 were planted with DT corn in 2016. By contrast, 30 percent of corn fields located in areas where the most severe July drought was 'exceptional' (i.e., D4 classification) at some point between 2011 and 2015 were planted with DT hybrids in 2016.
McFadden, Jonathan, David Smith, Seth Wechsler, and Steven Wallander. Development, Adoption, and Management of Drought-Tolerant Corn in the United States, EIB-204, U.S. Department of Agriculture, Economic Research Service, January 2019.
After discussing a variety of other variables in more depth, the ERS report concluded by stating that, "By 2016, approximately 22 percent of national corn acreage consisted of drought-tolerant (DT) corn hybrids. Diffusion of this new technology has been partially driven by farmers' experiences with drought: adoption is highest in semi-arid regions of the western Corn Belt where these seeds were partly developed and where companies' marketing efforts were initially concentrated. The expected benefit from DT corn adoption is likely to be higher in dry or drought-prone corn-producing regions than in regions with ample rainfall."
The authors added: "The decision to plant DT corn can be likened to farmers' decisions to purchase insurance. Under mild-to-moderate drought conditions, planting DT corn can 'pay out' in the form of reductions in drought-induced yield losses. Farmers who adopt DT corn value the expected avoidance of such yield losses at least as much as the premiums they are willing to pay for the DT technology.
However, DT seeds provide incomplete protection from drought, and substantial losses could result under severe conditions. Under extreme or exceptional drought, there could be little expected benefit to adoption since both DT and non-DT corn are likely to suffer crop failure.
"Yet, there remain conditions under which DT corn may be an effective risk-management tool.
"Broad policy implications stem from these potential improvements in risk management. Under mild-to-moderate drought conditions, the decision to plant a DT corn hybrid could determine whether a farmer suffers losses that warrant filing a Federal crop insurance claim. Continued diffusion of DT corn and further development of drought tolerance in other field crops could result in cost savings to farmers, private insurers, and the Federal Government through reduced indemnity payments. Similar reductions in drought-related natural disaster payments could also occur under increasing adoption and technological improvements."
Source: Keith Good, Farm Policy News
March corn futures prices maintain a range between $3.70 and $3.85 since the onset of the government shutdown.  The range-bound nature of corn prices continues despite projections of lower ending stocks.  While soybean prices respond to rumors of a trade deal, the implications for corn prices may be just as strong this marketing year.
A resolution of the trade dispute with China holds the promise of increased commodity prices and improvement of economic growth issues facing the world in 2019.  Each of these outcomes benefits corn prices.  In particular, China levies a one percent tariff on corn imports on up to five million metric tons (197 million bushels) at which point the tariff increases to 65 percent on additional imports.  Due to the current trade impasse, tariffs on U.S. corn imports to China sit 25 percent higher, at 26 percent and 90 percent respectively.  Recent reports out of China indicate the massive stocks built up under the price support program in place from 2007-2016 are approaching what the government considers a normal level.  It is difficult to estimate corn stocks in China due to a lack of data availability.  Chinese government officials indicated last week that they would sell off the remains of their old supplies in 2019.  USDA projections for Chinese ending stocks comprise 67 percent of the current world ending stocks with no prospects of exporting corn and the development of a production deficit.
China currently faces a 26.5 MMT (1.04 billion bushels) production deficit under normal growing conditions in the forthcoming year.  Since U.S. corn prices for export sit at the lowest level in the world, removal of the 25 percent tariff on U.S. corn imports infers an uptick in exports to China.  It seems plausible that 2 to 5 MMT (78.8 to 197 million bushels) of U.S. exports is feasible under the current tariff rate quota faced by the rest of the world.  If China increased the baseline quantity of the tariff rate quota to help meet the production shortfall, corn exports could grow.  The USDA forecast for corn exports this marketing year sits at 2.45 billion bushels.  It seems unlikely that the current forecast includes exports to China given the lack of trade in recent years.
World supplies appear set to grow tighter this year.  South Africa, usually an exporter, appears set to be an importer in 2019 on a significant crop shortfall associated with drought.  The contraction may be severe with local agencies indicating up to a 19 percent loss of corn area planted.  At 4.89 million acres, South African acreage forecasts sit on par with the drought year of 2015-16.  CONAB, the Brazilian agricultural statistics agency, projected corn production at 3.59 billion bushels for 2018-19 in the January report.  USDA's current projection sits at 3.72 billion bushels.  The prospects of USDA lowering production of Brazilian corn seems feasible.  Projections indicate the second crop accounts for almost 70 percent of Brazilian corn production this year.  The recent dryness in many regions of Brazil spurred soybean harvest and led to early corn planting.  A continuation of recent weather patterns in Brazil may be a harbinger of things to come.  The forecast for Argentine production sits at 1.67 billion bushels and may stay at that level for the near future.  On top of these world production issues, an expectation of lower corn production for the 2018 U.S. crop leaves world supplies heading lower as we move into 2019.
While corn supplies continue to deteriorate around the world, U.S. exports maintain strength this marketing year.  Export inspections place corn exports at 810.09 million bushels through January 17.  The current export level sits near 864 million bushels when accounting for differences between Census data provided through October and weekly export inspections.  Corn exports need to average approximately 49 million bushels per week to hit the USDA forecast.  Through January 17, corn export inspections averaged slightly above 40 million bushels per week thus far this marketing year.  While below the pace to attain the current USDA forecast, export inspections sit 61 percent above last year over the same period.  U.S. corn continues to be the cheapest at export terminals in the world and looks to benefit from any trade deal.
A resolution of the trade dispute with China creates a bullish scenario for corn prices.  The present outlook projects tighter world corn supplies in 2019.   When considering world ending stocks without China's large position, USDA world ending stocks come in near 3.98 billion bushels, down 644 million bushels from last marketing year.  Calculations of world ending stocks by the USDA do not include lower production by major exporters that developed since December.  An entry by China into a tight world corn market under a new trade deal look supportive of corn prices.
Source: Todd Hubbs, Farmdocdaily
Hubbs, T. "Prospects for Corn Use from Ethanol Production." farmdoc daily (8):230, Department of Agricultural and Consumer Economics, University of Illinois at Urbana-Champaign, December 17, 2018.
The WASDE forecast of corn use for ethanol production decreased by 50 million bushels in the December report.  Ethanol use for corn slightly lags behind last marketing year's consumption level and requires a fundamental change to the current market dynamics to eclipse the projection.
The projection of corn used for ethanol production of 5.6 billion bushels indicates a slight change from the previous marketing year.  The continuation of negative cash margins for ethanol plants saw a weakening of the weekly production recently from previous year totals.  Over the last month, production averaged 1.05 million barrels a day, down from the 1.08 million barrels a day over the same period last year.  To exceed the current USDA projection, an expansion in gasoline consumption or a continuation of the growth in ethanol export levels witnessed during the 2017-18 marketing year is necessary.
The projection of U.S. retail gasoline price by the Energy Information Agency (EIA) appears set to average $2.73 per gallon in 2018, 12.8 % higher than the price experienced in 2017.  The December EIA Short-Term Energy Outlook projected a decrease in gasoline prices for 2019 to $2.50 per gallon.  The forecast for gasoline consumption stands at almost 143.64 billion gallons in 2019, up from the 142.72 billion gallons consumed in 2018.  EIA's forecast of ethanol production in 2019 is 1.04 million barrels per day.  If the EIA projection is correct, a production level of approximately 15.94 billion gallons is in store for 2019, slightly down from 2018 production levels.  The renewable fuels volume requirement is set at 19.92 billion gallons for 2019, up from the 19.29 billion gallons required in 2018.  The conventional ethanol requirement comes in at 15 billion gallons for 2019, equal to the statutory requirement level for both 2017 and 2018.  The uncertainty regarding small refinery exemptions and E-15 policy looks to continue, but the low price of ethanol indicates a continuation of the 10 percent blend rate in 2019.  Moderate growth in gasoline consumption next year places forecasts of ethanol use for blending purposes marginally higher than the last marketing year.
Ethanol exports witnessed record levels in the 2017-18 marketing year with exports totaling 1.63 billion gallons.  Approximately 28 percent of this total went to Brazil.  Canada imported over 20 percent and an expanding market in India imported another 10 percent.  The prospect of eclipsing last year's record export total requires continued Brazilian sourcing of U.S. ethanol and increased ethanol exports to other markets.  Ethanol export numbers are available from U.S. Census trade data for the marketing year through October.  U.S. exports of ethanol thus far sit near 265 million gallons, up 40 percent from the similar period in 2017.  Strong demand from Brazil, Canada, the EU, propelled the early strength this marketing year.  Expansion of ethanol imports by numerous smaller markets also led to the year over year growth through the first two months.  Exports to China provide a minimal contribution to total exports thus far this year, but warming trade relations create the possibility for increased ethanol exports moving forward.  In 2019, low ethanol prices and growing demand hold promise to at least meet or eclipse last year's total.
Thus far, grain crushing for fuel alcohol totals are available through October from the USDA Grain Crushing and Co-Products Production report this marketing year.  For the first two months, corn use for ethanol came in at 907.6 million bushels of corn, down 0.9 percent from 2017 crush numbers.  Using EIA weekly ethanol production data through the end of November, production levels place corn use for ethanol production in a range of 455 to 465 million bushels for the month if corn use maintains the pace attained during the first two months of the marketing year.  With a conservative estimate of corn crush in November, total corn consumption for ethanol production through the first quarter of the marketing year comes in slightly below last year's 1.39 billion bushels.
The USDA's reduction of corn use for ethanol by 50 million bushels in the December WASDE report reflects the pace of consumption thus far this marketing year.  Lower gasoline prices leading to higher domestic gasoline consumption may provide support for increased corn usage for ethanol production in 2019.  Additionally, the continued expansion of ethanol exports appears promising with the low ethanol prices currently in place.  Corn use from ethanol production 20 to 30 million bushels larger than current WASDE forecast levels is possible this marketing year.
Applying Manure in Unfavorable Conditions
10/25/2018
Frequent rainfall has delayed harvest across the state, leading to concerns about whether manure application will be completed. The projected favorable forecast the next nine days should provide an opportunity for manure application.
At this point, focus needs to shift from waiting for ideal manure application conditions, to making sure there is sufficient storage capacity to make it through the winter. However, as these weather conditions can increase nutrient transport and loss, it is important to make sure best manure application strategies are followed to minimize negative environmental impacts and ensure producers benefit from the manure's fertilizer value.
Increased soil moisture increases both the risk of runoff and manure movement to tile lines. Higher soil moistures lead to both slower infiltrations of applied manures and greater potential for leaching. Liquid manure applications will increase soil moisture further; for example, a manure application of 13,500 gallons per acre is equivalent to a half-inch rainstorm.
There are some things producers can do to minimize risk of nutrient loss.
Consider reducing manure application rates. This may mean supplementing fertilizers or providing a second manure application in the spring to meet nutrient application goals, but the soil has a better chance of holding all the nutrients applied.
Pick and choose your fields. All fields aren't created equal. Some have more slope, some are closer to streams and rivers, and some are naturally wetter and more poorly drained. Take advantage of knowing the farm and apply in the drier locations.
Follow the contour. Wetter soils mean the manure soaks in slower; the manure and those nutrients need to stay where they are put. Following the contour provides less opportunity for flow and decreases mini-micro topography that runoff from the field from rainfall events shortly after manure application.
Surface residue. Fields with more residue cover will tend to have less runoff and less erosion than fields where residue has been removed. Take advantage of this by putting manure where residue cover remains.
Increase setback distances from rivers, streams, lakes, and sinkholes.
Review your manure management plan. Identify fields that have a low phosphorus index and apply to those first. This normally means the field is at a lower risk of nutrient loss.
Watch the forecast. The highest risk time for nutrient transport is within the first 48-hours of manure application. Try to avoid applying if larger storms (greater than 0.5 inches) are forecast.
These practices don't eliminate risk of nutrient loss, but taking these actions can help keep the nutrients in the fields and out of Iowa's waters.
Finally, wet conditions always lead to concerns and questions about compaction. Check tire inflation pressures, only partially fill tanks, or consider drag line application to reduce compaction risk. Good manure storage management means making sure to have sufficient capacity to make it spring. Keep soil and weather conditions in mind, and focus on actions to protect Iowa's waters. Safe hauling.
Source: Daniel Andersen, Iowa State University
U.S. Agricultural Exports Set July Record as China Trade Row Persists
9/11/2018
A radio update from USDA on Thursday indicated that U.S. agriculture exports set a record in July. "It's the best July that the U.S. has seen as far as agricultural exports go, the value total," said Bryce Cooke, an economist with USDA's Economic Research Service. The total value of U.S. agricultural exports in July totaled just over $11 billion.
In the radio update, Gary Crawford pointed out that the USDA trade data showed U.S. agricultural exports at $122 billion for first ten months of the fiscal year (October – July), which is two percent ahead of last year.
Nonetheless, soybeans dropped eight percent in value terms, and the value of wheat exports was down by twenty percent. The value of corn exports increased by ten percent.
More narrowly with respect to soybean exports, additional USDA data from last week showed that the total volume of U.S. soybean exports to the world are down about four percent from the time period last year, but for for the month of July, the volume of total U.S. soybean exports were up about forty-eight percent from July of 2017.
The volume of U.S. soybean exports to China were down over fifty percent this July compared to last year, but exports to the EU, Mexico, Egypt, Taiwan and Vietnam increased.
Recall that late last month in its Outlook for U.S. Agricultural Trade, USDA explained that, "Agricultural exports to China are forecast down $7.0 billion from fiscal 2018 to $12.0 billion as soybean sales are expected to be sharply lower due to retaliatory tariffs, which also curb demand for other products."
Recent business news articles also provided additional perspective on U.S. soybean exports to China.
Reuters writers Hallie Gu and Dominique Patton reported last week that, "China will almost entirely replace its soybean imports from the United States with Brazilian beans and other origins in the upcoming season, but may run out of the oilseed in early 2019, said an executive with a top crusher on Tuesday.
"The forecast was one of the most bearish yet on the impact of the Sino-U.S. trade war for American farmers."
The article noted, "Imports from the United States will plunge further in the 2018/19 season starting this month to just 700,000 tonnes, said Guo Yanchao, deputy chairman of Jiusan Group.
"That compares with 27.85 million tonnes of U.S. soybeans imported in the prior year.
"Overall, China's imports of soybeans for the year will drop to 84.67 million tonnes, down 10.79 million tonnes from last year's purchases, Guo told an industry conference."
On Tuesday, Bloomberg News reported that, "JBA Holdings, a joint venture between companies including Heilongjiang Agriculture Co. and Joyvio Group, will invest $100 million over three years to build a soybean crusher and grain port in Russia amid a push by Chinese firms to diversify their sources of crop supplies."
And Reuters writers Hallie Gu and Josephine Mason reported Friday that, "China will start allowing soybean imports from Ethiopia, customs authorities said on Friday, as the world's top importer seeks to reduce its reliance on supplies of the oilseed from the United States amid a trade row with Washington."
With respect to U.S. beef and pork exports, USDA's Agricultural Marketing Service (AMS) pointed out in the September edition of The Economic Landscape that, "The [beef] export volume and value were both up 1 percent from June.
"Cumulative beef exports were higher in volume by 10 percent relative to 2017, and value was 20 percent higher."
"Japan, South Korea and Canada were our largest export markets in July."
The AMS report added, "Pork export volume was 8 percent below June while the value was down 9 percent."
"The largest overseas markets for U.S. pork were Japan, Mexico and Canada."
Additional analysis regarding USDA's Market Facilitation Program was included on the front page of Saturday's Des Moines Register.
Donnell Eller reported that, "Iowa farmers could get $550 million from the federal government to help offset damage from a summer of escalating tit-for-tat trade disputes.
"Iowa soybean farmers will receive an estimated $479 million, based on the state's projected harvest. Iowa pork producers would get between $60 million and $70 million.
"The money is part of a $12 billion emergency farm aid program President Donald Trump announced in July and is being provided through the Commodity Credit Corp., an agency formed in 1933 that has $30 billion in bonding authority to support farm prices and incomes."
The Register article added, "The money comes as Iowa and U.S. farmers face a cash-flow crisis, struggling with four years of falling income.
"'This is basically a very quick, cash-flow infusion,' said Iowa State economist Chad Hart, who calculated the amount of aid to Iowa producers with ISU economist Alejandro Plastina."
"On Friday, Trump threatened to impose another $267 billion in tariffs on Chinese goods, on top of the $200 million in new tariffs the president said probably will be implemented soon. If that happens, virtually everything coming from China would be subject to a U.S. tariff," the Register article said.
Source: University of Illinois
President Donald Trump is considering increasing the amount of ethanol in gasoline.
Sen. Chuck Grassley tweeted there is a potential of ethanol increasing from 10 percent (E10) to 15 percent (E15) blend of ethanol and 85 percent of gasoline year-round following a White House meeting May 8.
According to Mitch Miller, CEO of Carbon Green Bioenergy plant in Lake Odessa, the ethanol industry is pursuing a Reid vapor pressure waiver, a one-pound waiver, for E15 in the Clean Air Act (CAA) from the Environmental Protection Agency all year.
The Environmental Protection Agency bans E15 from June 1-Sept. 15 in certain regions of the country. Ethanol can be used in cars built after 2001 in unattainable regions or areas where the CAA monitors pollutants all year, Miller said, but in other areas, it is banned throughout the summer.
Miller said the reason it is prohibited is that the vapor pressure does not decrease. As a result, it does not meet the vaporized pressure requirement for the summer time. He said he believes the E15 one-pound waiver will not only help to meet the standard, but it is "cleaner fuel and a lower vapor pressure than the E10."
In addition to the quest to get a year-round E15 waiver, car manufacturers have changed the way they are building their cars to allow more ethanol to fuel cars, said Denny Heffron, owner of Heffron Farms in Belding.
"Now, plastics that are in cars will not be affected by ethanol (E15)," Heffron said. "Ethanol used to be hard on plastics, so old engines weren't able to run on ethanol because it deteriorated the plastic — the plastic gas lines, the plastic hoses — anything that was plastic, but now it changed."
That is music to the ears of farmers because with the increase of ethanol comes the increase of bushels of corn being sold to ethanol plants across the state. The increase in sales will generate more money for farmers, and it will minimize the surplus of corn growing in the state.
Heffron said the state had 2.5 billion bushels of corn carried over from last year.
"It will create a little bit of demand," Heffron said. "A little bit helps a lot. It will not hurt; it will help take care of some of the surpluses."
In addition to curving the surplus of corn, Jim Zook, executive director of the Michigan Corn Growers Association, said the increase in ethanol will reduce the U.S. dependency on foreign oil, improve the quality of the air that we breathe and recruit more farm workers.
Miller said at his ethanol plant, they grind 20 million bushels of corn all from Michigan farms per year.
"We buy corn from 650 family farms in Michigan," Miller said. "We produce 60 million gallons of ethanol per year and 1,040 tons of dry distillers grain."
One of the biggest misconceptions of corn being used to make ethanol is that once the corn is sent to an ethanol plant, there is no byproduct, Heffron said.
He said ethanol plants use the starch from the corn and then farmers use the byproduct, like the oils and protein, which is the dry distillers grain.
"The dry distillers grains goes back to farmers and is used as livestock feeds," Heffron said. "It is high in protein, it's high in energy, it is a wonderful feed. The chicken farmers that we sell to, they use it. The hogs guys we sell to, they use it. The dairy guys, they use it. The beef guys we sell to, they use it. So, that is one more product we are getting out of the corn."